Children's Trust Fund Alliance partners with parents to share and promote their voices through national networks, publications and other resources.
Birth and Foster Parent Partnership (BFPP)
New Tools to Build Birth and Foster Parent Relationships
Introducing two new resource tools – Birth and Foster Parent Partnership: A Relationship Building Guide and the Birth and Foster Parent Partnership: A State and Local Leader's Guide to Building a Strong Policy and Practice Foundation – created by parents and partners within the Birth and Foster Parent Partnership (BFPP). The Executive Summary offers a quick overview of the two guides which provide valuable supports to help birth and foster parents, including kin, build strong relationships and help systems institute policies and practices to support these relationships. In addition, we created a one-page "user's guide" for how child welfare agency leaders and staff may consider introducing and using the Birth and Foster Parent Partnership: A Relationship Building Guide.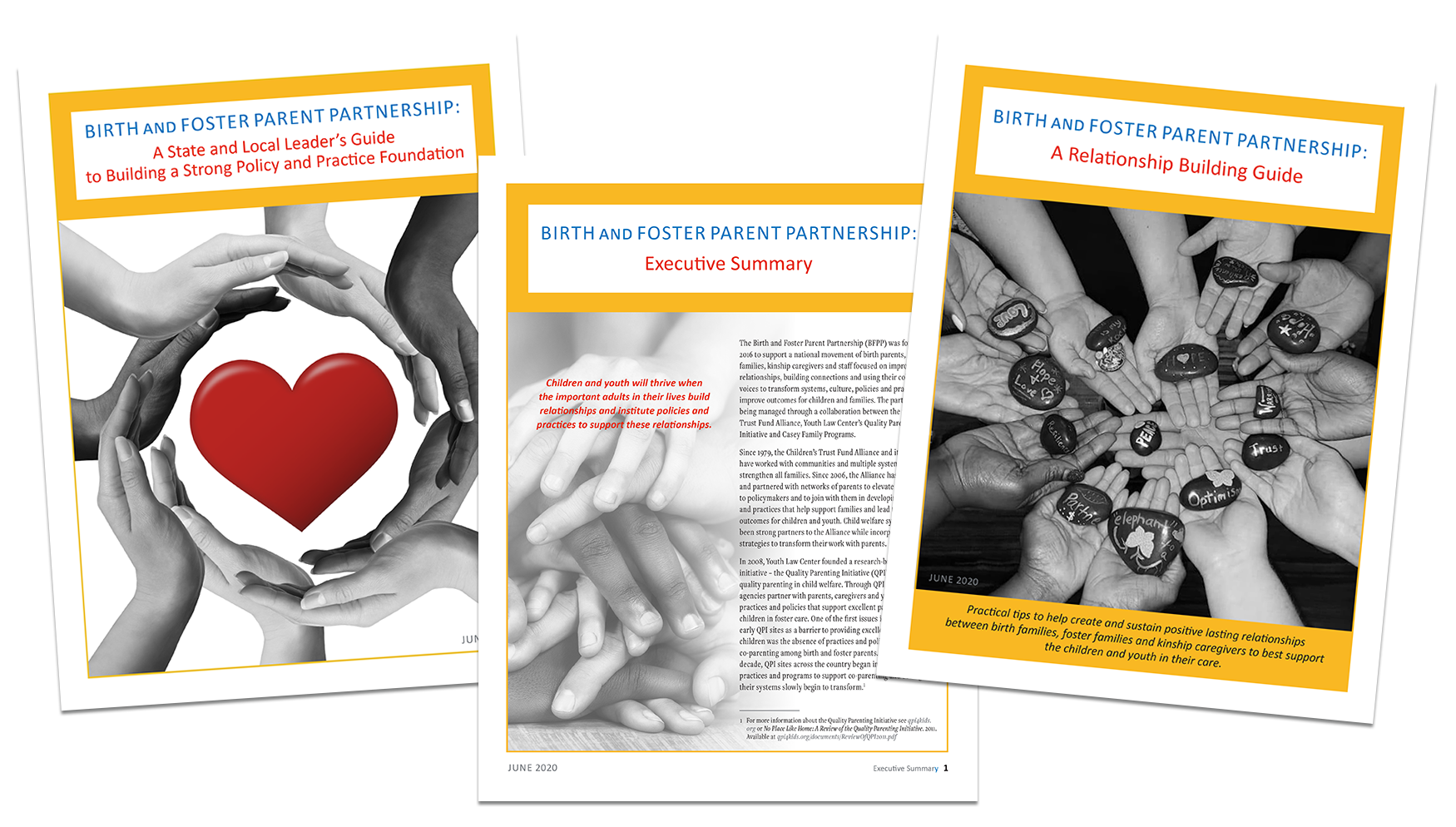 These publications were created with parents, in collaboration with the Children's Trust Fund Alliance, Youth Law Center's Quality Parenting Initiative and Casey Family Programs. Together, we've been working to highlight and develop purposeful strategies for implementation by leaders and decision makers at local, state and federal levels. We collectively believe that children and youth will thrive when the important adults in their lives build relationships and agencies prioritize these relationships through culture, practice and policy. We believe that partnerships between birth parents and foster/resource parents should be instituted as best practices in every jurisdiction across the country.
Creating Authentic Partnerships
The Birth and Foster Parent Partnership (BFPP) is an innovative approach that creates authentic partnerships among parents who advocate for policy and practices that benefit children and families. The BFPP is designed to further Casey Family Program's (CFP's) 2020 goals focused on the safe reduction of the number of youth in foster care. Its purpose is to increase coordination between birth parents and foster parent caregivers for improved permanency outcomes.
The partnership is managed through a collaboration between the Children's Trust Fund Alliance (Alliance), Youth Law Center Quality Parenting Initiative (YLC/QPI) and CFP.
Responding to Family Needs During COVID-19
Many families across our nation are struggling during this COVID-19 pandemic. At the Children's Trust Fund Alliance, we have spoken to parents who have lost their jobs, and are anxious about providing for their families. This pandemic has created a common denominator of stress and challenge for most families. The Children's Trust Fund Alliance is working tirelessly to provide information, support and opportunities for action to strengthen and promote the well-being of children, families and communities.
Help Us Make the Case for Continued Support
The pandemic is creating health and economic hardships for businesses, communities and families. At a time when there is such critical need at every turn, we need to make the case for additional support for children and families dealing with the challenges of COVID-19. Collecting and sharing the stories of families during the pandemic is one way to put a face on these real and everyday challenges to help systems leaders and policymakers prioritize the needs of families.We have created a short questionnaire to give families a way to share your stories with the media. The questionnaire is simple and submission will be followed up by a contact from the Alliance. Stories are powerful – so if you have a story to share or know of a family that you work with that might be willing to share their story, please complete the questionnaire HERE or share this link with others: https://tinyurl.com/y6cel9g2
JOIN
Children's Trust Fund Alliance Action Alert List
To have Alliance news, updates and action alerts delivered to your inbox, sign up HERE.
The Children's Trust Fund Alliance joined with a group of parents from the BPNN to produce these issue briefs. They include the perspectives of parents with life experiences in using services to strengthen their families and focus on timely and important topics.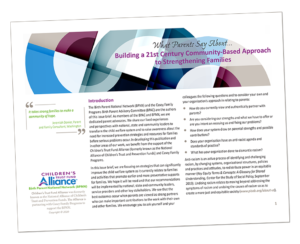 What Parents Say About…Building a 21st Century Community-Based Approach to Strengthening Families is the BPNN's newest issue brief. Parents discuss strategies that can improve the child welfare system and promote earlier and more preventative supports for families. The best outcomes occur when parents are viewed as strong partners who can make important contributions to the work with their own and other families.
We Need You
The Alliance's BPNN actively recruits parents and organizations that work with parents to join together to promote and support the voices of parents to inform policies and practices that effect children and families. The dynamic BPNN membership consists of:
Parents who:
Are committed to a strength-based, preventative approach for systems that interact with families
Have high interest in engaging in policy work and drawing on their life experiences to inform and educate policymakers and other stakeholders
Have experienced challenges and have been at risk of child welfare involvement
Have been previously involved with the child welfare system
Organizations that are:
Committed to identifying and supporting parents as strategic partners in policy work and system reform
Interested in sharing materials and resources with their peers and colleagues nationally
BPNN Members meet six times per year by webinar for education and information sharing. These webinars and other resources focus on tips and information to prepare birth parents to effectively participate in a range of policy activities, such as giving personal testimony, educational meetings with policymakers, etc.
Join Now
Select the application form best suited to your role: Parent or Organization. You will be contacted once the application has been received.
Parent Membership Application
Online form – The form will appear in a pop-up window. Make sure your browser is not blocking pop-ups.
Organization Membership Application
Online Form – The form will appear in a pop-up window. Make sure your browser is not blocking pop-ups.
Recruitment Materials To Share:
Parent Partner Compendium
The Alliance created the document,
Parent Partnership Compendium of Organizations
, in partnership with parents. The compendium provides an overview of organizations nationwide that partner with parents to support, strengthen and sustain healthy families and communities. It includes a range of resources such as parent partner programs, support groups, parenting initiatives, networks and national organizations that provide technical assistance, training and systems improvements. This is an evolving list and will be updated as new information is received. To submit new information, contact
info@ctfalliance.org
.
Family First Prevention Services Act
The Family First Prevention Services Act was passed by Congress in February 2018. This groundbreaking legislation changes the way child welfare systems can support families and provides new resources for prevention of foster care. The Alliance and our parent partners are working hard to educate policymakers charged with implementing this new legislation.
See additional information about FFPSA, including both a short and detailed summary of the legislation, an implementation timeline and the law language. Check out the resources below:
Opioid Crisis
The opioid crisis is a serious problem for many families. The Alliance and our partners are speaking out about the needs to provide strong supports for families facing this challenge.
Casey Family Programs' CEO William C. Bell testified at a hearing of the U.S. Senate Committee on Health, Education, Labor and Pensions on the impact of the opioid crisis on children and families.