As many families deal with the new challenges related to COVID-19, infants are now being born into a uniquely challenging environment. The Wisconsin Child Abuse and Prevention Board is committed to reducing the incidence of Abusive Head Trauma by raising awareness among parents and caregivers through The Period of PURPLE Crying program. The National Center on Shaken Baby Syndrome has seen an increased interest in implementing PURPLE during these times in hopes of keeping new parents informed and supported.
PURPLE is an evidence-based program that supports parents and caregivers in their understanding of increased infant crying and reduce the incidence of abusive head trauma related injuries or deaths. Abusive Head Trauma, or Shaken Baby Syndrome, is the leading cause of child abuse related deaths in the nation, with a 25% mortality rate. For those infants who survive, about 80% experience lifelong disabilities. Most of these incidents occur during the first 6 months of a child's life. Research shows that there is a normal period of increased infant crying during the first six months of life, beginning at 2 weeks, peaking at 3 to 4 months, and decreasing around 6 months. Researchers have determined that this period of increased infant crying is the leading stimulus for a parent or caregiver to shake their baby.
Since 2016, the Wisconsin Child Abuse and Prevention Board has worked with partners around the state, offering grant funding and technical assistance to implement the Period of PURPLE Crying. Currently, there are 5 grantees, 3 hospital systems and 2 family resource centers delivering PURPLE during home visits, Welcome Baby visits in the hospital, or though Parents as Teachers (PAT) home visits. The goal is to reach as many families with infants as possible.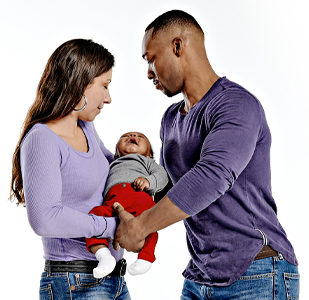 In 2020, the Prevention Board expanded staffing and resources to begin program expansion with the goal of bringing the program statewide to at least 80% of all families with newborns each year. Included in the statewide plan, a new funding opportunity will be available for smaller amounts of money to support staff training time and cost for materials based on the services provided to families with newborns annually. The Prevention Board Directors approved ongoing funding to support program costs for all births in the state of Wisconsin.
Through these funding opportunities the Prevention Board aims to engage a wide range of agencies supporting parents and building awareness of infant crying and the relationship to abusive head trauma. Grantees and applicants are urged to demonstrate strategies for engaging fathers and other caregivers in the program learning, as well as utilizing connections with local community partners to help reinforce the messaging of The Period of PURPLE Crying.
The Prevention Board is committed to growing this statewide initiative aimed at reducing Abusive Head Trauma cases in Wisconsin while building a strong network of hospitals and community agencies looking to do the same.
The Wisconsin Child Abuse and Prevention Board is the lead state agency on child abuse and neglect prevention efforts in Wisconsin. Prevention Board work is grounded in the strengths-based Protective Factors Framework utilizing a public health approach which incorporates a continuum of prevention strategies to strengthen families. The agency promotes and supports community-based, family-centered strategies to prevent child abuse and neglect while strengthening family protective factors in communities across the state. As a global community, families everywhere are dealing with unprecedented stress and fear, and having access to supportive information and programs is needed now more than ever.