Safe and Healthy Children • Strong and Stable Families • Thriving and Prosperous Communities
Commitment to Act Against Systemic Racism
As an organization working to help every child and youth in the United States grow up in strong, stable, nurturing families within thriving and prosperous communities, the Children's Trust Fund Alliance reaffirms our commitment to racial justice and to becoming an anti-racist organization.
The need for these efforts has become even more clear in light of the racially disparate impact of COVID-19 and the recent incidents of violence including the murders of Ahmaud Arbery, Breonna Taylor, George Floyd, and Tony McDade, and racist incidents like Christian Cooper's encounter in Central Park. We also know that racism and oppression have been a stain on our nation's history for hundreds of years with countless other victims.
As people have risen up across the country, we join with them in calling for change. We thank those who are engaged in protests, and we stand in solidarity in proclaiming that Black Lives Matter. We value and appreciate those who are writing and speaking about their own experiences and who are standing together to say, "no more will this go on."
The Children's Trust Fund Alliance recognizes that we have much to learn and much work to do to meet our goals of being an anti-racist organization. We are renewing our commitment to look at all of our work through a lens of anti-racism and to join with our members, parent partners and others who are doing this work to more completely live up to our own ideals. We see how our past work has fallen short. We are committed to expand our learning and apply it to using an anti-racism lens to review all of our work and to make necessary changes.
 In keeping with this renewed commitment, we have adopted 5 action steps. View these steps and download the Alliance's solidarity statement HERE. We invite suggestions, guidance, and opportunities to join with others who are leading this crucial work. It is time to dismantle racism and move ahead into a new and better future for children and families in communities through the nation.
Children's Trust Fund Alliance, formerly known as the National Alliance of Children's Trust and Prevention Funds, is the national membership organization for state children's trust funds.
We support a dynamic NATIONAL NETWORK
The Alliance provides leadership and support for a dynamic national network of children's trust and prevention funds who are catalysts for positive changes in systems, policies and practices in their states to promote well-being for children, families and communities.
We are a PREVENTION HUB providing critical content to a broad audience
The Alliance provides trainings, publications and other supports to ensure broad audiences understand the role each of us can play in strengthening families and communities and preventing child abuse and neglect.
We offer multiple training opportunities to educate professionals, policymakers, community members and parents. Our national network of more than 1,000 certified trainers uses the Alliance's curriculum to equip front-line practitioners with a strengths-based approach to build protective factors. Our groundbreaking approach about child neglect prevention has increased understanding that communities and society can neglect children and families and provided much-needed tools that allow us all to take action to promote well-being throughout the social ecology.
We strengthen and model PARENT PARTNERSHIPS in all that we do
The Alliance promotes and supports strong partnerships with parents through meaningful roles, structures and ongoing partnerships.
We are THOUGHT LEADERS in promoting the importance of prevention in systems and organizations
The Alliance engages with systems, organizations, researchers, individuals and policymakers to promote a strong prevention focus in all areas that touch the lives of families. In all of our partnerships and collaborations across multiple fields of work, the Alliance is the voice of prevention.
We remain strong in our OUTREACH
The Alliance ensures that it has a solid foundation, strong organizational structure, expert staff and sufficient funding so that its dynamic contributions will continue and grow. The Alliance joins with funding partners who share common goals, and we collaborate with leaders in the prevention field to achieve our mission. The Alliance board of directors is actively engaged in their roles of oversight, policy and direction for the organization.

Alliance Overview
The Children's Trust Fund Alliance is the only national organization that provides support to state children's trust and prevention funds. Click HERE to download an overview of our work, strategies and mission.
In 2018, the Alliance developed a Theory of Change that lays the foundation for future work. The Alliance works closely with its board of directors, members and parent partners to implement strategic plans based on its theory of change.
The five priority areas in the Alliance's theory of change are:
Maintain, strengthen and leverage state CHILDREN'S TRUST and PREVENTION FUNDS
EDUCATE broad audiences about prevention, and serve as a hub for prevention science, practice and policy
Strengthen PARENT PARTNERSHIPS
Engage and strengthen PREVENTION in systems and organizations that impact families
Strengthen and maintain the ALLIANCE
A board of directors, consisting of representatives from state children's trust funds, governs the Alliance. The board provides leadership, vision and guidance in all of the Alliance's work. Their important state-level roles as staff, board members and parent partners help ensure strong connections to the ongoing needs and interests of the national network. The Alliance benefits from their expertise and experience.
A team of staff and consultants carry out the Alliance's mission and strategic plan. Each member of the Alliance team brings experience and in-depth knowledge in multiple topical areas.Team members link closely with Alliance membership, with parent partners and with state and national collaborators to achieve organizational goals.
The Alliance has an active committee structure where its members and others with needed expertise contribute to the growth and vitality of the organization. The committees help shape the Alliance's work and provide a national platform for members to interact with peers throughout the nation.
Communications Committee – Advises the Children's Trust Fund Alliance on strategies to promote the Alliance to external and internal audiences, to improve communications among its members and to support messaging about preventing child maltreatment.
Finance Committee– Conducts monthly reviews of the Alliance fiscal reports and assures that the Alliance's finances are managed effectively and reviews annually the organization's fiscal management and policies. The Board Treasurer chairs the Finance Committee.
Governance Committee– Ensures board effectiveness and that board policies are observed; nominates new board members; implements board development and growth; and ensures board members receive orientation and support. The Vice-President of the Board chairs the Governance Committee.
Membership Committee – Recruits new members and retains existing members; monitors and assesses the needs of members; and develops activities that promote active and engaged membership.
Public Policy Committee – Guides and supports the Alliance's work in the public policy arena to proactively advance policies and legislation that bolster the strength and influence of state children's trust funds and help build conditions where all families thrive and children grow up free from child maltreatment.
Ensure all states have a strong and effective children's trust or prevention fund capable of leading and investing in strategies, policies and best practices that prevent child abuse and neglect before it occurs.

Initiate and engage in national efforts that help State Children's Trust and Prevention Funds in strengthening families to prevent child abuse and neglect.

Promote and support a system of services, laws, practices and attitudes that supports families by enabling them to provide their children with safe, healthy and nurturing childhoods.
For 30 years, the Children's Trust Fund Alliance has served as the national membership organization for state children's trust and funds. We are:
A HUB for all elements in the prevention field
A THOUGHT LEADER in the movement to strengthen and promote the well-being of children, families, and communities
A strong PARTNER with PARENTS
In 2009, when the Alliance celebrated its 20th anniversary, we developed a history of our organization which contains a timeline of the child abuse and neglect prevention movement in the U.S. That historical document is available for downloading here.
The "Father" of Children's Trust Funds
The late Ray E. Helfer, MD, is considered the "father" of children's trust and prevention funds, because of his conceptualization of special funds that could be used to ensure that our nation's children grow up nurtured, safe and free from harm.
Dr. Helfer's lifelong dedication to children serves as a model for all citizens. This award, sponsored by the Children's Trust Fund Alliance and the American Academy of Pediatrics' Section on Child Abuse, was established in his honor and is presented each year at the Alliance's Annual Membership Conference to a distinguished pediatrician for his or her contribution to the prevention of child abuse and neglect. All nominations must be submitted by representatives of children's trust or prevention funds. For more information on Dr. Helfer, please visit the Ray Helfer Society.
Dr. Lily J. Lou Receives 2021 Ray Helfer, MD, Award
Dr. Lily J. Lou, a Professor of Clinical Pediatrics and Director of Government Relations at the University of Illinois-Chicago, has been selected as the 2021 Ray E. Helfer, MD, Award honoree. She was nominated for this award by Trevor Storrs, President and Chief Executive Officer of the Alaska Children's Trust.
"Dr. Lou has made it her life mission to ensure our children and families live safe and healthy lives," said Storrs. "She has been a strong partner of the Alaska Children's Trust and a strong advocate for our work in preventing child abuse and neglect. For Alaska, Dr. Lou was our beacon of hope and strength."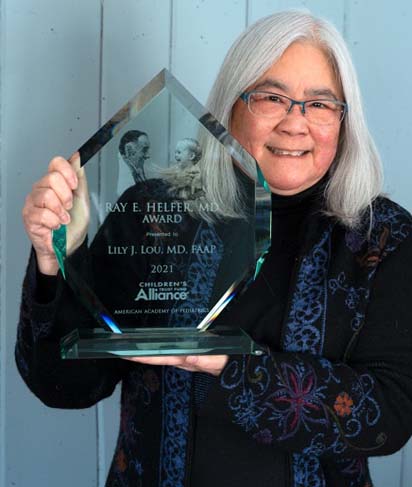 In 2002, Dr. Lou made Alaska her home. She practiced clinical neonatology before serving as the Medical Director of the Neonatal Intensive Care Unit (NICU) at Children's Hospital at Providence in Anchorage from 2007 to 2014. She then served two years as Chair of the Pediatric Department at Providence followed by two years as Executive Medical Director. Before leaving Alaska, Dr. Lou served as Chief Medical Officer and State Health Official for the Alaska Department of Health and Social Services.
"It is a valued opportunity each year to work with our colleagues at the American Academy of Pediatrics to recognize a pediatrician whose life and work make a powerful positive difference in the lives of children and families.  We are particularly pleased to present the 2021 award to Dr. Lou to honor her vast contributions," said Teresa Rafael, Executive Director of the Alliance.
Because of issues related to the pandemic and the need to schedule events virtually, the 2021 Ray E. Helfer, MD, Award presentation was delayed until Feb. 17, 2022. Present to honor Dr. Lou were Antoinette L. Laskey, Chair–Elect of the AAP Council on Child Abuse and Neglect and state children's trust funds who are members of the Alliance.
Dr. Lou recently relocated from Anchorage to Chicago.