Each of the protective factors is essential, but most important is what they do together to build strength and stability in families.
The Strengthening Families approach and protective factors framework was introduced in 2003 by the Center for the Study of Social Policy (CSSP). It is a research-informed, strengths-based approach that prevents child abuse and neglect by focusing on the well-being of all families and helping families identify and build on their own protective factors. The Doris Duke Charitable Foundation funded the original research with CSSP and also funded the Alliance to engage its network of children's trust and prevention funds to demonstrate unique and innovative ways to implement the protective factors framework.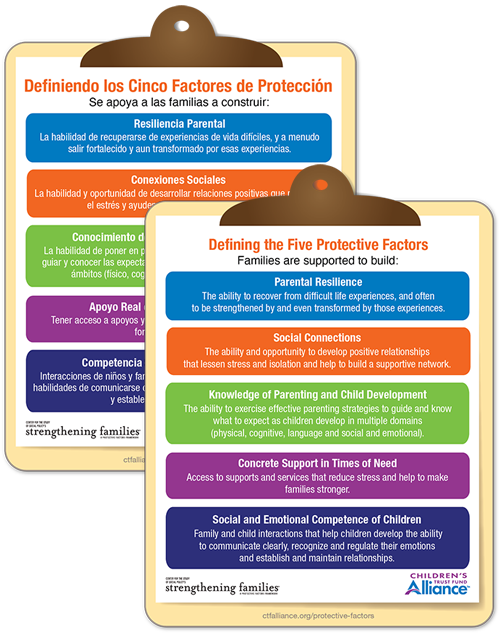 The Strengthening Families protective factor framework includes the following five protective factors:
Parental Resilience
Social Connections
Knowledge of Parenting and Child Development
Concrete Support in Times of Need
Social and Emotional Competence of Children
The protective factors definitions are available in English and Spanish. Download a printable PDF of them here:
The Alliance formed the Early Childhood Initiative (ECI) Learning Community and by 2007 there were more than 30 state members. The ECI Learning Community met regularly, sharing learning around implementation of the framework, strategies for partnering with parents, ideas for state wide structures and engagement and many other opportunities and challenges. The Alliance supplied valued support and technical assistance to children's trust and prevention funds, as well as arranging many opportunities for peer support, as they implemented the framework. The ECI Learning Community members also contributed to a body of training, resources and tools that are now available through the Alliance. They also formed the core group of what is now the Strengthening Families National Network.
In addressing the critical need for formal and accessible national training for staff and parents interested in the protective factors framework, the Alliance created a free-of-charge 14-hour online training that has already served more than 35,000 learners. Based on feedback on the online training and requests from the field, the Alliance created its highly respected, in-person multi-day training, Bringing the Protective Factor Framework to Life in Your Work. Currently there are more than 1,300 Alliance Certified Trainers across the country who are training staff and parents using the Alliance's curriculum.
The Alliance and its members created many other publications, videos and other tools for those interested in learning more about the protective factors and those interested in helping families grow stronger.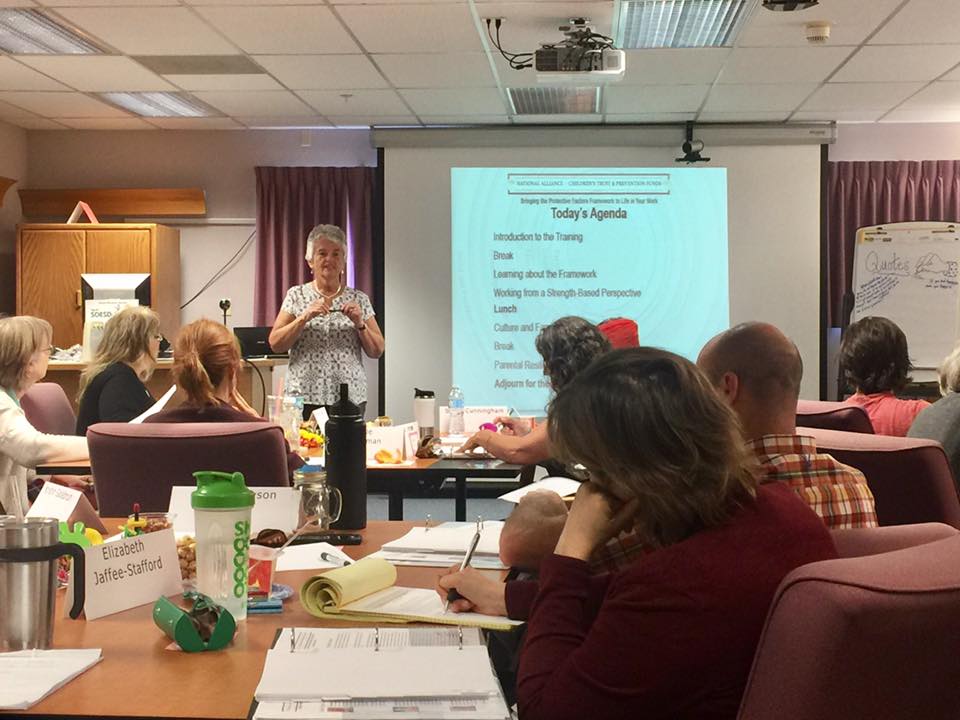 "So many 'aha' moments, I wanted to absorb every story you told, examples you gave and lessons learned. Unbelievable training from beginning to end. Thank you for your time, passion and energy."
– Training of Trainers Participant
The Training of Trainers is for experienced trainers who want to become Certified Trainers in the Alliance's national curriculum, Bringing the Protective Factors Framework to Life In Your Work, and be able to train others in their state and region.
Learn more about the Training of Trainers
The Alliance Training of Trainers curriculum, Bringing the Protective Factors Framework To Life In Your Work, provides experienced trainers with an array of resources for in-person and virtual delivery, with activities and materials to meet diverse training needs and enhance adult learning experiences. The multi-day training offers networking and learning opportunities with other qualified trainers.
Benefits of Becoming an Alliance Certified Trainer
Alliance Certified Trainers are trainers who have successfully completed the Training of Trainers. They receive a limited license to use course materials to train their local and state-specific audiences. They are not licensed to train other trainers.
Certified Trainers have access to the Alliance's Certified Trainer Support Site that contains print-ready copies of all training materials, including training PowerPoints, video and audio files and other tools to assist in delivering the courses. Essential elements for each course are outlined in a 2-hour teaching plan; additional activities and content enable course expansion and audience customization. New materials are added to meet needs that may arise and standard materials are updated regularly.
Alliance Certified Trainers may connect with other Certified Trainers and the Alliance through a Closed Facebook Group and networking webinars. The Alliance provides a system of supports to help Certified Trainers in effective delivery of course content.
Some Certified Trainers have used the training materials to deliver selected courses during state and regional conferences. Others are using the entire curriculum to build knowledge, skills and abilities, expanding the capacity of their states' workforce to help families build protective factors. It is being used in multiple systems to train and support practitioners: early care and education, family support, home visiting, child welfare, higher education and others. There are more than 1,300 Alliance Certified Trainers in the expanding network.
Interested in Attending a Training of Trainers?
Most of our Training of Trainers events are hosted by agencies and organizations who may have some open training slots available. To receive more information about upcoming trainings, complete a short form HERE.
Interested in Holding a Training of Trainers?
To receive basic information about what is involved in holding a Training of Trainers, complete a short form HERE. Someone from the Alliance will contact you after you submit the form.
What Others Are Saying About the Training of Trainers
Alliance Training Equips New Jersey Trainers to Advance a Protective Factors Approach
Commissioner of the New Jersey Department of Children and Families, Christine Beyer, shares about how their group of over 95 Alliance Certified Trainers is using the Alliance's training to enhance and advance a protective factors approach, which requires them to rethink the look of a modern child protection system.
Commissioner Beyer says, "The Framework helps us re-envision how to heal families as a unit, how to build and buttress relationships before they break down and how to provide family-driven programs and services that link to their goals and reduce the risk factors for abuse."
Bringing the Protective Factors Framework to Life In Your Work
Children's Trust Fund Alliance is pleased to make available an online training to support implementation of the Strengthening Families™ Protective Factors Framework in multiple settings. This curriculum includes new materials on partnering with parents and addresses promising strategies to strengthen families. The online training is for anyone who works with children and families, including parents, practitioners and supervisors.
Courses Available on ProSolutions Training Site
All of the courses are available on the ProSolutions Training site. You can access them by clicking on the course names below. ProSolutions Training offers two versions of each course:
One for FREE with a certificate of completion
One for a small fee with CEUs and in most states, early childhood training credit
If you need to contact ProSolutions Training for assistance, the Client Relations team can be reached at 1-800-939-9694 or via email at support@prosolutionstraining.com
If you took the online training before November 2018 and need to access a certificate, contact Trish Hallmark at trish.hallmark@ctfalliance.org.  Please note that course completion certificates from the original Alliance online training site are not longer available, and you will need to retake the course on the ProSolutions Training site.
Overview of Online Courses
The curriculum consists of seven courses, each designed to be about 2 hours in length. The introductory course provides an overview, followed by each of the five protective factors and ending with a review and reflection course that helps participants move from knowledge to action. The introductory course can serve as a brief, stand-alone Strengthening Families™ 101 training.
Outline of Online Curriculum
Introduction/Strengthening Families™ 101
Background information on the Strengthening Families™ Protective Factors approach
Introduction of the protective factors framework
Strength-based work with families
Introduction of the Strengthening Families™ Protective Factors Framework Self-Assessment
Appropriate as a stand-alone orientation to the framework
The Five Protective Factors Courses
Purpose and learning objectives for each course
Definition and explanation of the protective factor
Definition and explanation of program strategy (or strategies) and everyday actions
Quizzes, activities and reflective questions
Real-life parent stories, documenting the power of building protective factors
Engaging mix of written text, video and audio examples
Individualized Action Plan (IAP) work
A direct link in the Websites and Resources section to the Strengthening Families™ Self-Assessment for that protective factor
Moving from Knowledge to Action
Recap of the curriculum, using the logic model as a visual summary
Introduction to the systems concepts of the Strengthening Families™ "Core Functions" and their ability to impact change at a systems level
Review of the user's portfolio and Individualized Action Plan (IAP)
Add user reflections and update the IAP to reflect progress made while completing the curriculum
Course Title
Click on Your Chosen Course Title to Enroll in or Access Course
Participant Worksheet/Handout
When the Center for the Study of Social Policy (CSSP) introduced the Strengthening Families ™ Protective Factors Framework in 2003, then the Alliance began to engage its network of children's trust and prevention funds to consider implementing this unique approach in all of their work. Both bodies of work – the research and the implementation through children's trust and prevention funds and their early childhood partners – was funded by the Doris Duke Charitable Foundation.
It was soon discovered that implementation of a strengths-based approach, focused on building protective factors, could look very different from one community to another. The Alliance and all of the participants in the Early Childhood Initiative learned from each other. In partnership with the Alliance, they developed many resources to share about this work.
These resources share concrete examples across the socio-ecological model of ways in which the Protective Factors framework is springing to life across the nation. These actions demonstrate unique ways that states are:
Strategically aligning and coordinating early learning and development across state systems,
Promoting school readiness,
Involving and supporting parents as decision-makers and leaders at all levels, and
Helping to strengthen families to prevent child maltreatment
Click on a state below to see the resources developed in that state.
Parent Need 2 Know Resources
The Alliance's National Parent Partnership Council (ANPPC) is committed to utilizing the Protective Factors Framework as a foundation for their parent-to-parent work nationally.  Many of the tools in the 'Need 2 Know' series share parents' perspectives from across the country regarding the power and impact that building protective factors has made in their family and community.
The 'Need 2 Know' Resources that specifically address protective factors include:
Parent Translations of the Five Protective Factors
Concrete Examples of Everyday Actions to Build Protective Factors – 1-page infographics (Parental Resilience, Knowledge of Parenting and Child Development and Social Connections)
Images to Share on Social Media
To access these and other emerging parent-to-parent resources to support families to build protective factors, click here.