Celebrating the voices of parents and how families use the protective factors to go to positive places in their lives
PARENT VOICE
The Alliance works with multiple parent groups, including the Alliance National Parent Partnership Council (ANPPC), the Birth Parent National Network (BPNN) and the Birth and Foster Parent Partnership (BFPP).  We also honor all of the work that our members do to partner with parents at the state and community level. The Alliance's parent organizations generate and create, both individually and collaboratively, many resources that share their parent voice. It is our hope that the resources you find here will help you share and celebrate Parent Voice!
What Gets Your Wheels Spinning?
This fun one-page resource celebrates the voice of parents and how families are going positive places in their lives by building protective factors through everyday actions. The flip side offers suggestions for ways you can begin down this path by taking action today. Download it HERE.
ANPPC Parents Share Concrete Supports Stories at National Press Panel
Press Panel Handouts
The following handouts were distributed during the May 31 national press panel held by Chapin Hall at University of Chicago. All are PDFs and available to download:
Parents from the Alliance National Parent Partnership Council (ANPPC) shared how the impacts of concrete supports helped their families at a national Press Panel held May 31 by Chapin Hall at Chicago University. Betty Hawkins-Emery (OK), Victoria Holt (WA) and LaCrisha Rose (WV) participated in the public panel with child welfare professionals and medical experts including Robert Sege, MD, PhD. They provided lived-experience voices in a shared discussion on how child abuse did not increase during the pandemic, as many claimed it would.
The goal of the panel was to help members of the press better frame future stories that touch on child welfare and child protection with a pro-family lens. About 70 media representatives, including reporters from the Boston Globe and Washington Times, participated in the webinar. The ANPPC parents stories illustrated that there is no single narrative that describes what families are experiencing during the pandemic, and how concrete supports made a material, positive difference in the lives of so many families.
Dr. Sege is a leading national authority on innovative approaches to child abuse prevention. He is a core faculty member of the Tufts Clinical and Translational Science Institute and Professor of Pediatrics and Medicine at Tufts University School of Medicine. The Children's Trust Fund Alliance honored him with the 2019 Ray E. Helfer, MD, Award.
AUTHENTIC PARENT VOICES: Protective Factors Strengthen Families
Corey B. Best
Corey is first and foremost a dedicated father. Originally from Washington, DC, he currently calls Florida home. This is where Corey became involved with adaptive leadership training, community organizing, authentic family engagement, race equity, primary prevention and highlighting "good enough parenting" for those impacted by the child welfare system. A community curator for Mining for Gold,LLC, Corey's mission is to positively impact the lives of children, families and communities through safe and racially equitable relationships.
Corey received the 2016 Casey Excellence for Children's Award for his strong leadership contributions in strengthening families and communities. Also, Corey is a certified trainer in the Alliance's Bringing the Protective Factors to Life in Your Work.
In February, Corey was featured on Radio Kempe "Call to Action" Podcast Series. Click HERE to hear Corey discuss "child welfare transformation in times of racial awakening."
Before that Corey was the guest speaker for The Imprint podcast, and discussed his own experience losing parental rights as a young father, mandatory reporting and what we could do differently with information that comes in from the child protection hotline. Click HERE and be inspired.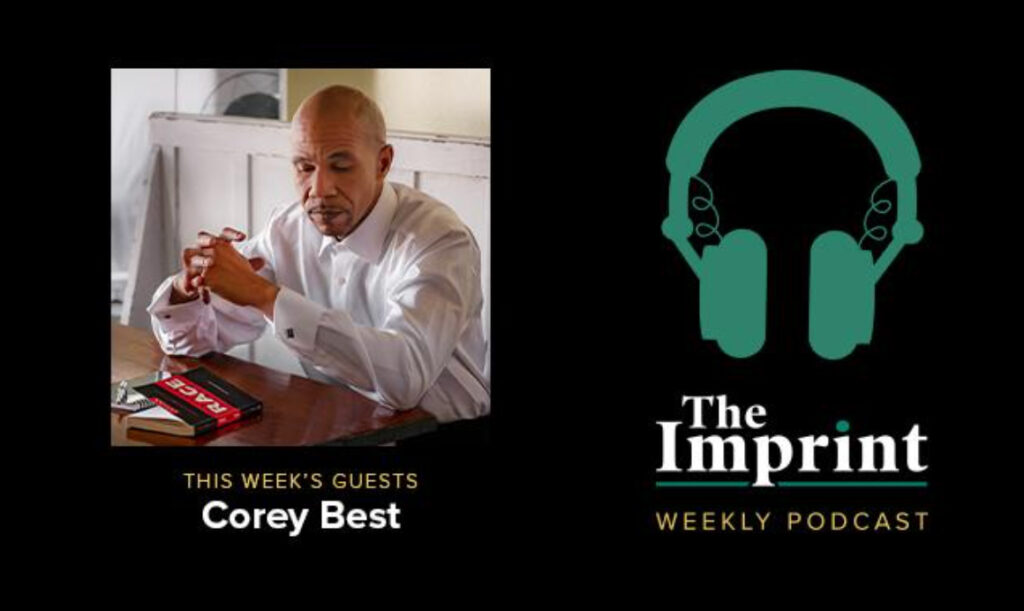 Jeremiah Donier
Congratulations to Jeremiah Donier on his new role as the national program manager for the Children's Home Society of Washington's Parents for Parents Program. In making the announcement, Children's Home Society shared an inspirational video of Jeremiah made when he was named a Casey Family Programs "Birth Father Award Winner." Listen to Jeremiah as he shares how the protective factors and understanding child development made "a world of difference for me and my children."
In 2012, Jeremiah was named one of the first Reunification Heroes by the American Bar Association. In 2015, he became involved as a family consultant with the Center for States and also served as an Island County parent mentor.
Currently, Jeremiah serves as a family consultant with more than 15 years of lived expertise in behavioral health child development domestic violence, protective factors, multi-generational adversities and responsible fathering As a volunteer and contracted consultant he serves on dozens of projects to keep children safe, help youth thrive, build strong families and create supportive communities. Jeremiah lives on Whidbey Island with his wife and two children and also works part-time as a library associate.
Pasqueal Nguyễn
A dedicated family advocate and mother of seven, Pasqueal calls Louisiana her home. She was involved with the child welfare system because of substance use. After becoming involved in a treatment program, she was able to successfully reunify with her children.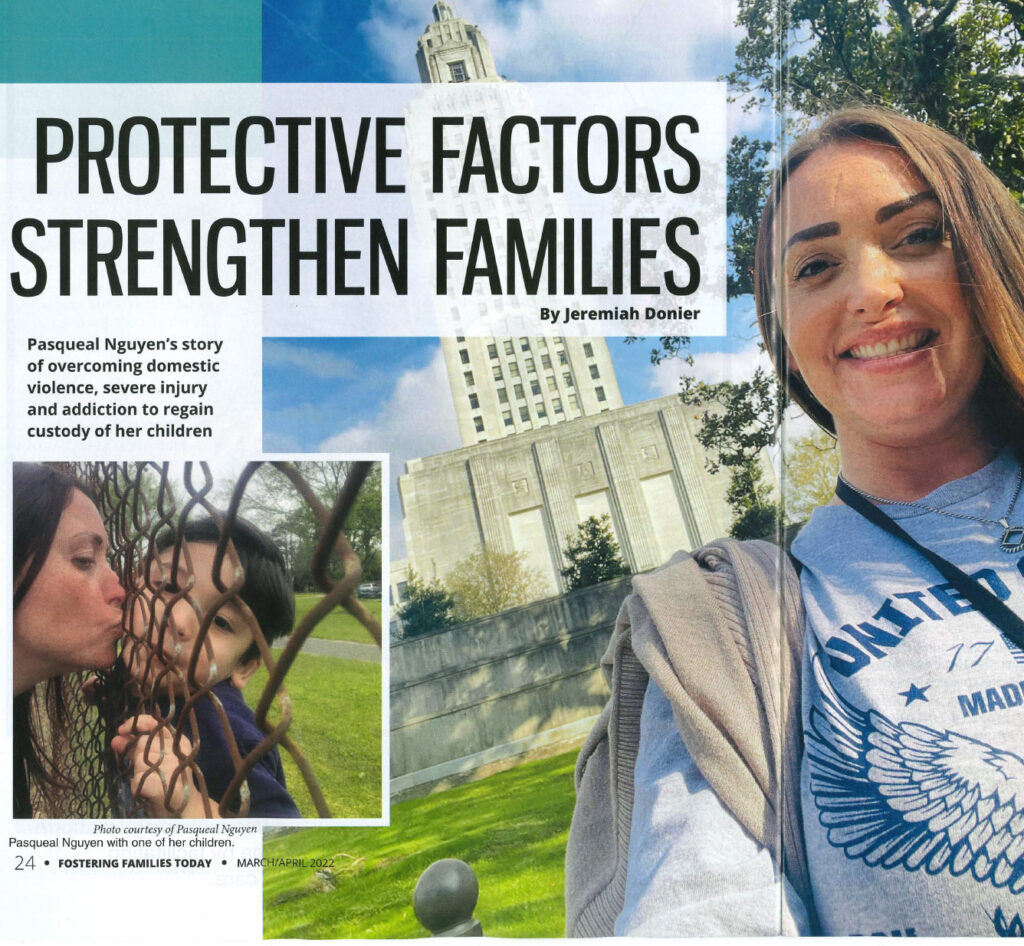 To learn more about Pasqueal and how she used the protective factors to overcome domestic violence, severe-injury and addiction to regain custody of her children, click HERE. Published in the March/April 2022 issue of Fostering Families Today, the article about Pasqueal's amazing journey was written by Jeremiah Donier. They met through their work on the Alliance's Birth Parent National Network (BPNN) and the Birth and Foster Parent Partnership (BFPP).
Pasqueal works with the Alliance training parents and professional in the protective factors. She is on an amazing journey to become a public speaker. She spoke at the Together We Can Conference in Lafayette, Louisiana, and was part of a panel during the opening plenary session at the Quality Parenting Initiative (QPI) National Conference in Philadelphia. She serves as a parent mentor on the Louisiana Governor's Board for Disability Affairs and on the Extra Mile Parent Advisory Council.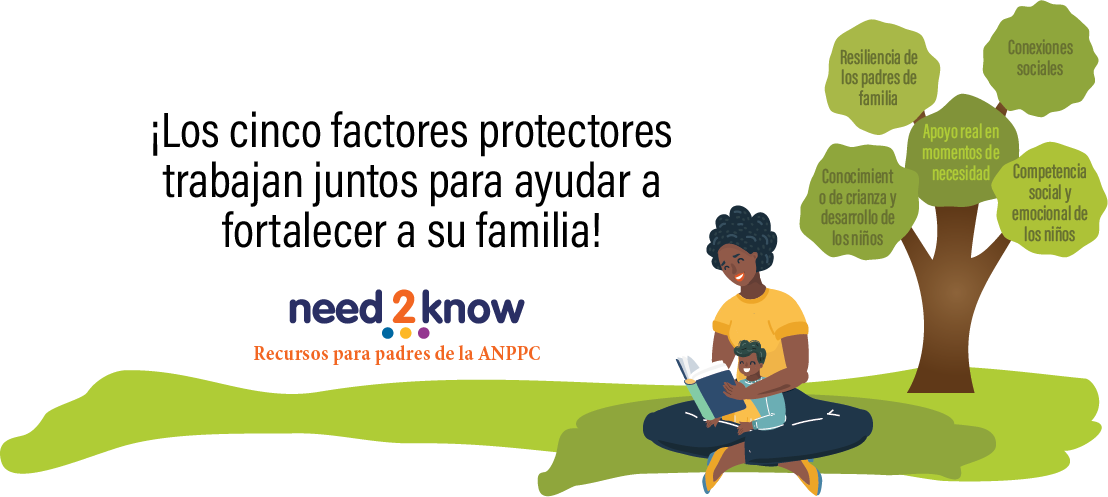 Available NOW: Spanish Translations for ALL ANPPC need2know Parent-to-Parent Resources
ALL five of the ANPPC need2know protective factors infographics are now available in Spanish. Concrete Support in Times of Need and Social and Emotional Competence of Children have just been released and join previously translated Parental Resilience, Knowledge of Parenting and Child Development and Social Connections.  In addition to these need2know parent-to-parent tools, their corresponding social media memes/images have been translated and are available to download and distribute.
To create these tools, the ANPPC conducted interviews and surveys of parents to find out what actually works and how they are using the protective factors in their everyday lives. For the Concrete Support in Times of Need infographic, the ANPPC asked parents to share a time that was stressful for their family and who helped them achieve a good outcome. All of the examples given by parents showed the key to achieving a good outcome were the people who actually showed up to provide concrete support and a listening ear. There were so many wonderful examples that the ANPPC created a special "example" supplement: Parents Share Examples of Concrete Support.
The back of each of the infographics shows how the protective factor fits within the framework – how they all work together to help make families strong! Also, featured on the flipside is how parent groups across the country have defined the protective factor.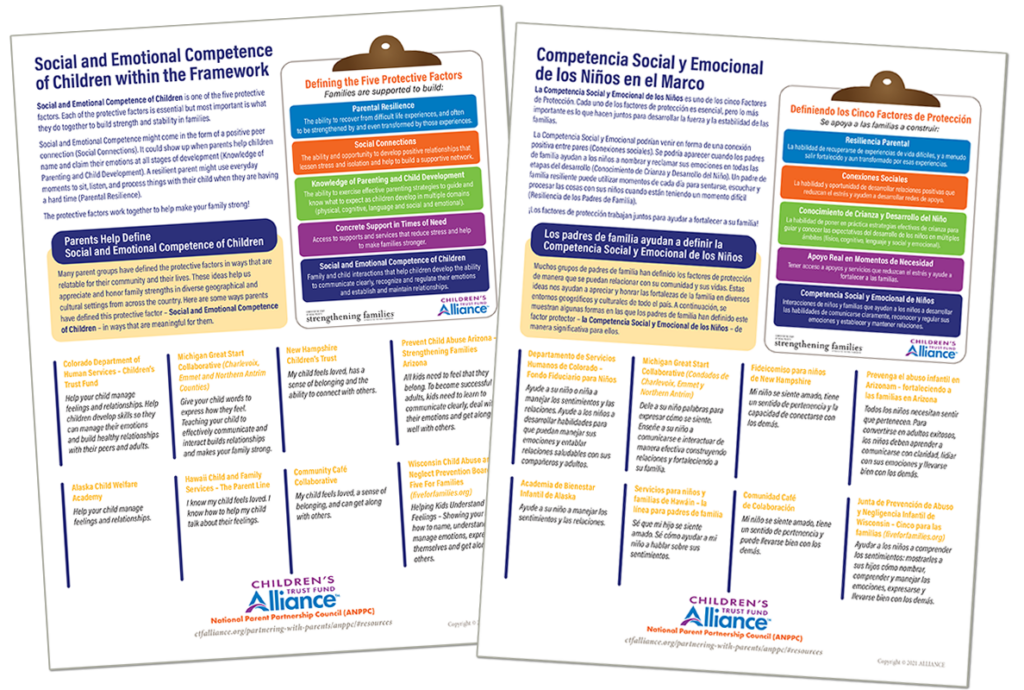 ANPPC

need

2

know

English infographics
The English ANPPC need2know infographics and memes are available to download. Visit the RESOURCES SECTION of the ANPPC page.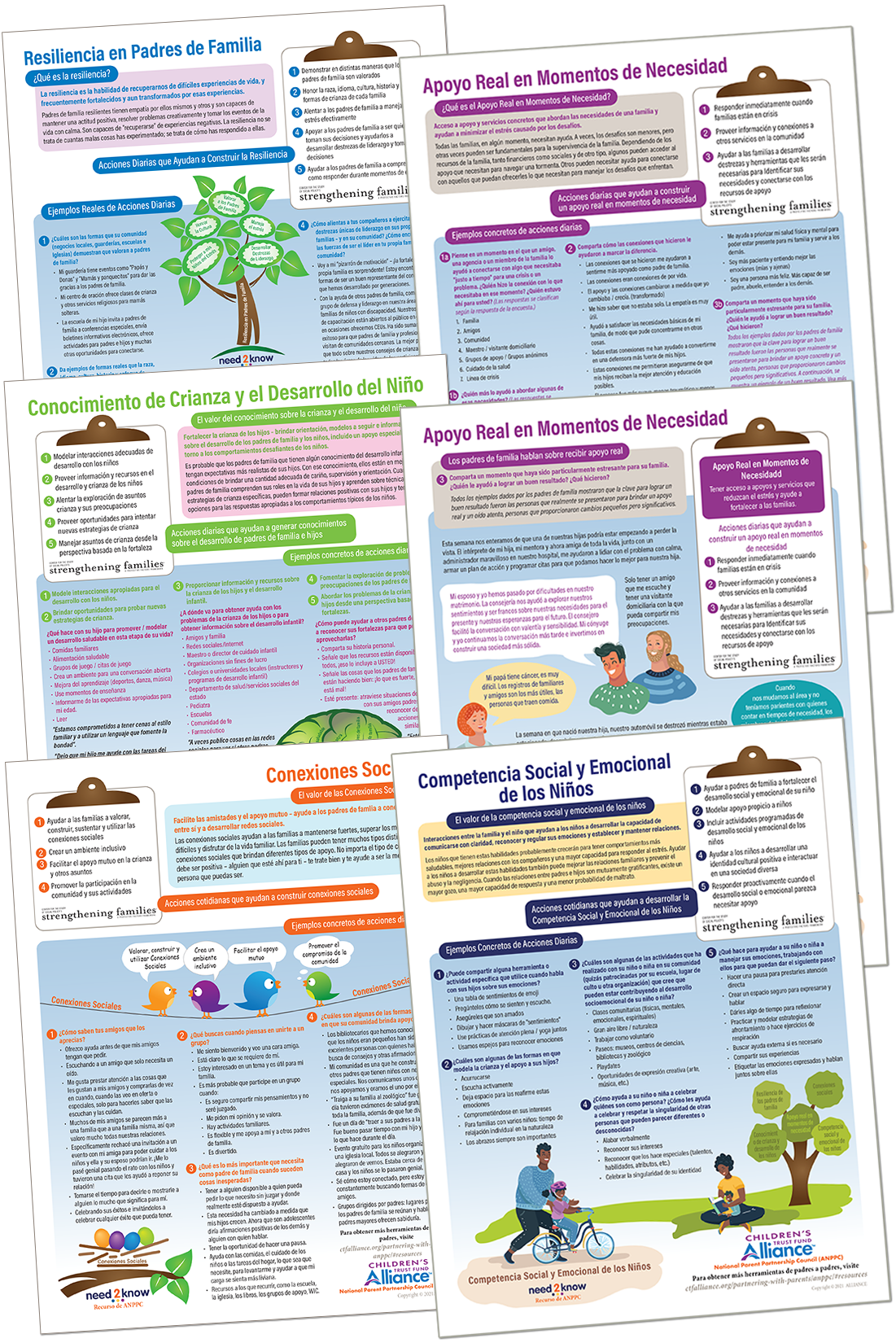 need

2

know

 Images to Share
Help us get the word out about the ANPPC's need2know infographics that are now available in Spanish. Thank you for downloading and disseminating either the Spanish or English meme to let your network know that the protective factors help build strong families and communities.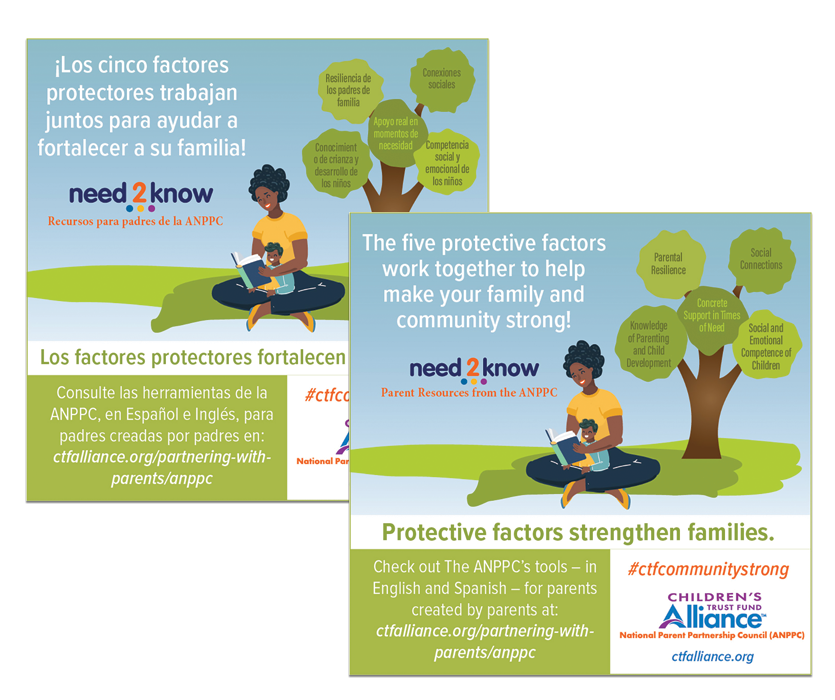 Spanish Introductory Course Available Online
If you want to learn more about the protective factors and how they can help parents and their families thrive, check out the Alliance's free-of-charge, 14-hour online training. The online training is for anyone who works with children and families, including parents, practitioners and supervisors. Visit the Protective Factors page, Online Training Section to learn more.
We are pleased to announce that the introductory course is now available in Spanish! An overview, the introductory course is about 2 hours in length and serves as a brief, stand-alone Strengthening Families™ 101 training. The Alliance offers seven English courses and the Spanish introductory course through ProSolutions Training where there are two options available:
One for FREE with a certificate of completion
One for a small fee with CEUs and in most states, early childhood training credit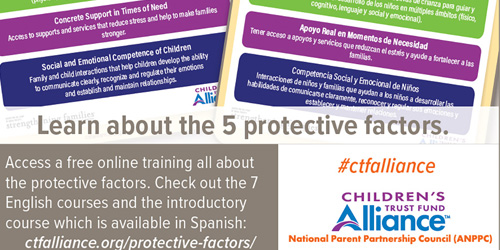 (Suggested message for sharing on social media)
The Alliance National Parent Partnership Council knows the five protective factors strengthen families and communities. To learn more about the protective factors, check out the free online training available in English and Spanish at ctfalliance.org/protective-factors/#onlinetraining.
#ctfalliance