Birth Parent National Network (BPNN)
Promoting birth parents as leaders and strategic partners in prevention and child welfare systems reform
"The Indian Child Welfare Act's focus on preserving family and community ties exemplifies the best practices of child welfare.
By keeping children close to their community and recognizing the importance of kinship connections, ICWA's practices and policies ensure that children benefit from the support and cultural practices that are key to continuity in their lives.
I'm heartened by today's Supreme Court decision, and we must recommit ourselves to upholding these principles that improve the well-being of children and families in Tribal Nations and across the United States."

We are a national network of hundreds of birth parents and organizations working together to strengthen families, communities and systems by engaging the voices of parents.
Join Us Now
Select the application form best suited to your role: Parent, Individual Stakeholder or Organization. You will be contacted once your application has been received. All forms will appear in a pop-up window.
Promote Parent Voices
The Alliance's BPNN recruits parents, individual stakeholders and organizations that work with parents to join together to promote and support the voices of parents to inform policies and practices that effect children and families. The dynamic BPNN membership consists of:
Parents who:
Are committed to a strength-based, preventative approach for systems that interact with families
Have high interest in engaging in policy work and drawing on their life experiences to inform and educate policymakers and other stakeholders
Have experienced challenges and have been at risk of child welfare involvement
Have been previously involved with the child welfare system
Organizations that:
Are committed to identifying and supporting parents as strategic partners in policy work and system reform
Have an interest in sharing materials and resources with their peers and colleagues nationally
BPNN Members meet four times a year by webinar for policy updates and information sharing. Also, the BPNN holds an annual virtual convening.
CARING CONVERSATIONS
Every Other Monday
1 PM PT • 2 PM MT • 3 PM CT • 4 PM ET
Children's Trust Fund Alliance is building a better normal by bringing together the powerful strengths within the Birth Parent National Network (BPNN). The Alliance is holding Caring Conversations every other Monday to support the network and to facilitate collective wisdom. Social connections are a powerful protective factor in our lives. Through these virtual meetings, we can come together and share our experiences, successes and concerns.
Email Kara Georgi to get the link at kara.georgi@ctfalliance.org.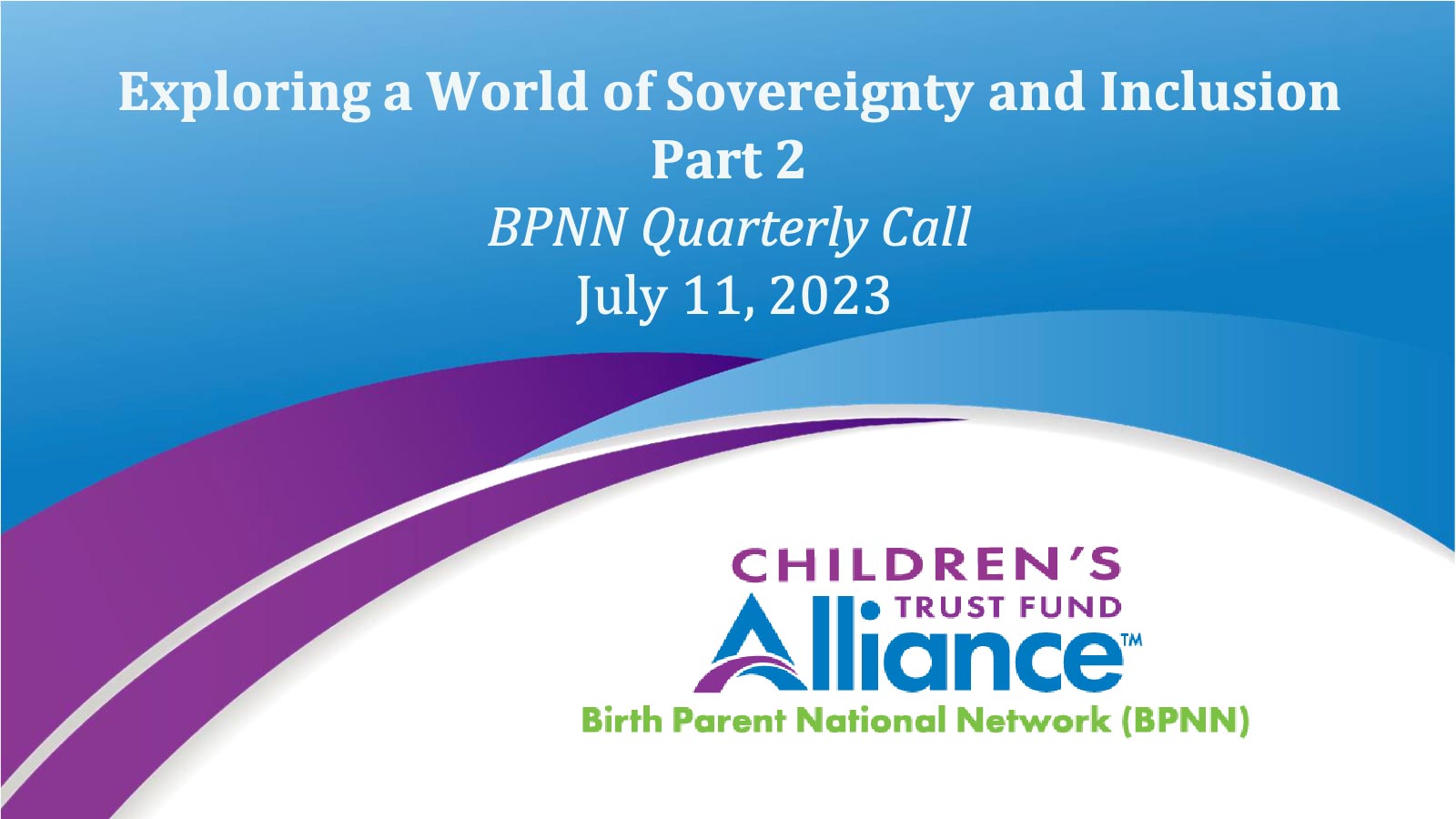 July 11, 2023 – Exploring a World of Sovereignty and Inclusion Part 2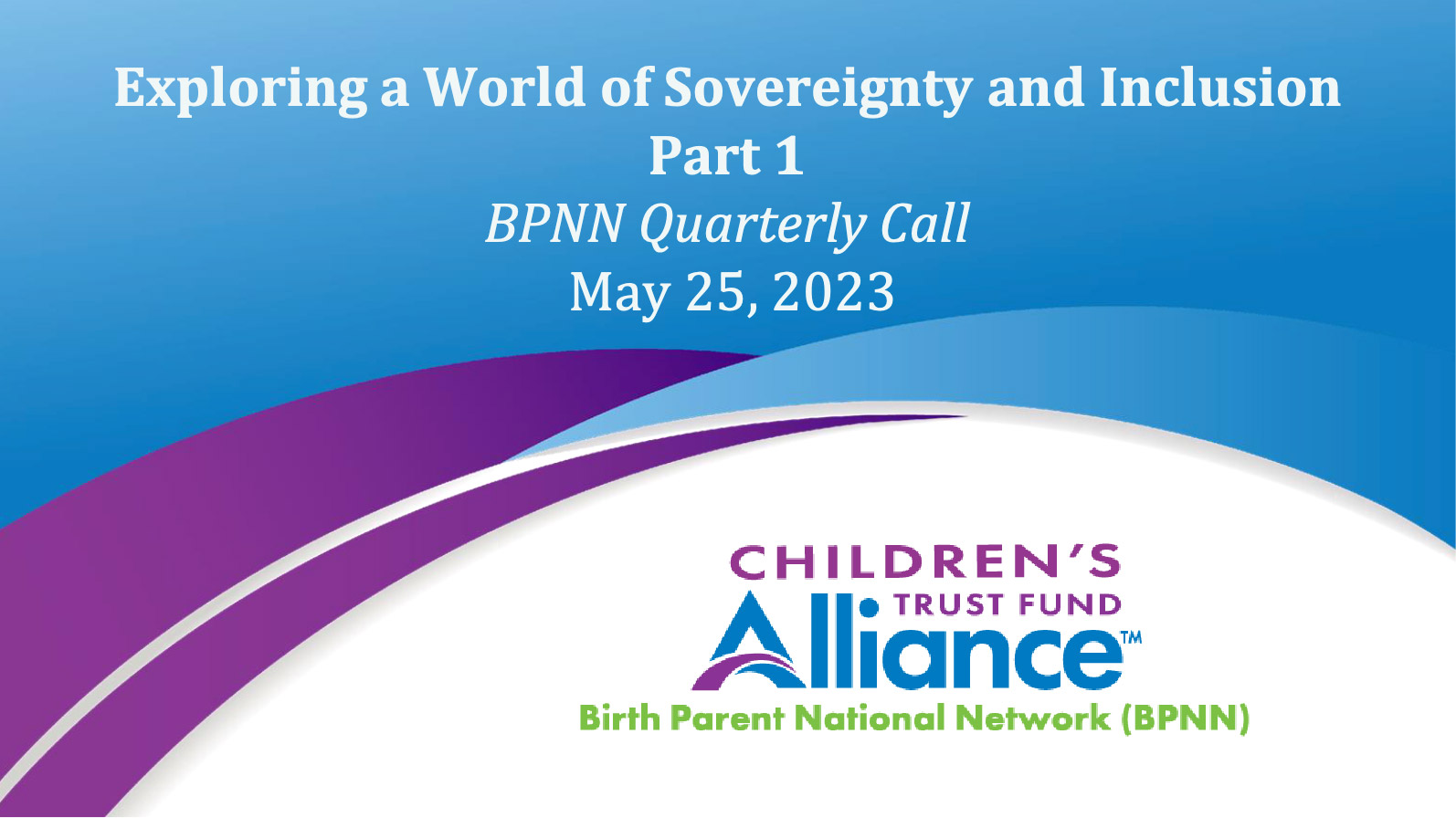 May 25, 2023 – Exploring a World of Sovereignty and Inclusion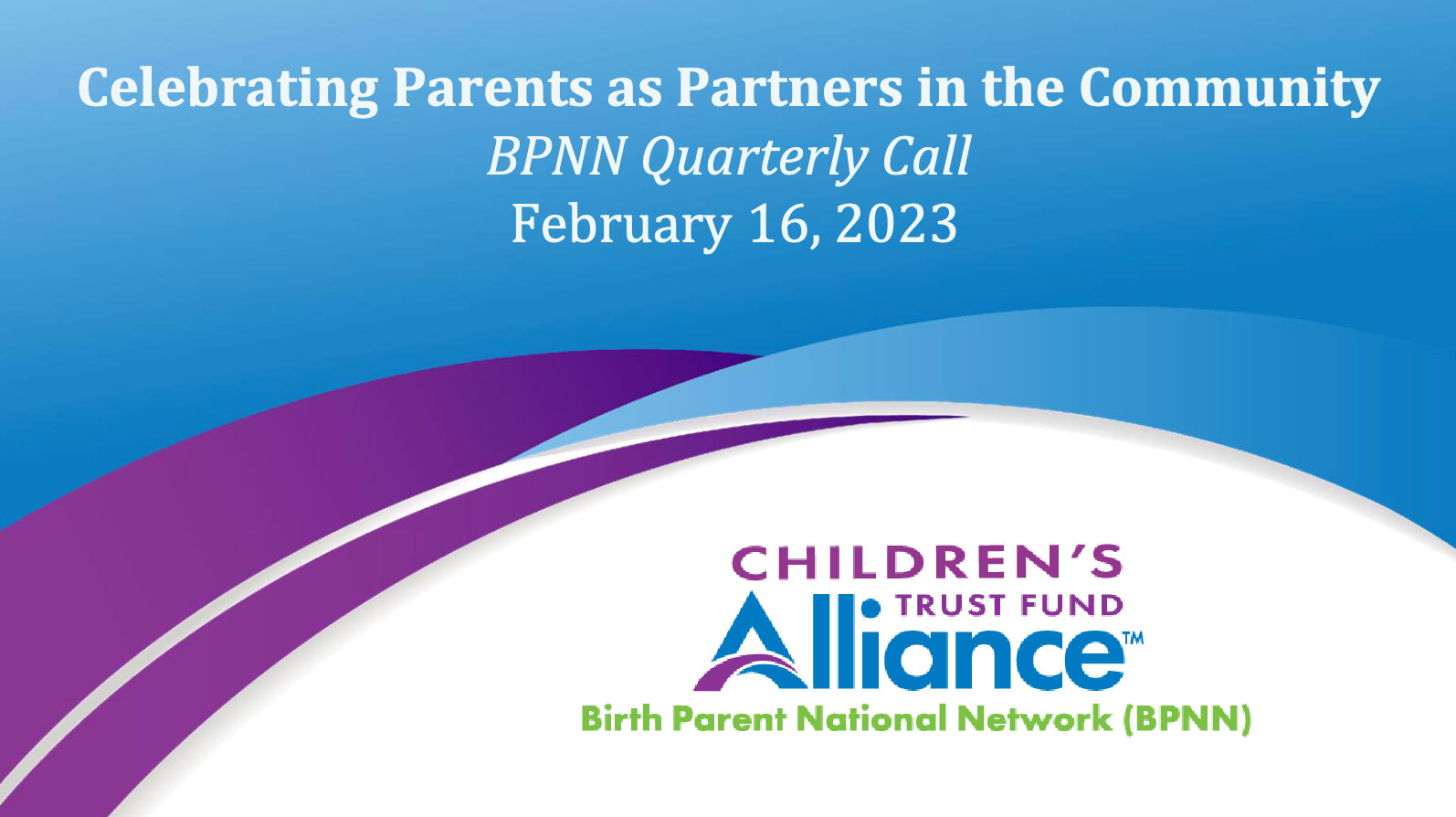 February 16, 2023 – Celebrating Parents as Partners in the Community
9th Annual Virtual Convening
Supporting Families at the Front End of the Child Welfare System
The Birth Parent National Network (BPNN) 9th Annual Virtual Convening explored results when a participatory research project incorporated a partnership approach between funders, researchers, parents and youth. The Annie E. Casey Foundation, Stand Together and the Aviv Foundation funded this project to understand more about the front end of the child welfare system and the impact of child abuse investigations and case planning on children and families. BPNN parent partners with prior experience with the child welfare system interviewed 100 parents to learn more about their experiences when they were investigated for allegations of child abuse and neglect and discussed findings from the interviews conducted by Think of Us with youth whose families experienced an investigation. A thought-provoking discussion and highlighted findings gathered from parents, youth and other stakeholders about their experiences with the investigations process.
The following materials are available to download:
Previous BPNN Virtual Convenings
The Alliance's Birth Parent National Network (BPNN) hosts a free virtual convening each year. BPNN members and keynote speakers share new ideas and strategies to create opportunities for parent voices to improve policies and practices impacting children and families nationwide.
Alliance Resiliency Project
The Children's Trust Fund Alliance developed the Alliance Resiliency Project to support parents during the COVID- 19 national crisis. We partnered with Casey Family Programs to provide a trusted and supportive resource to almost 400 parents who are members of the Birth Parent National Network (BPNN), the Birth Parent Advisory Committee (BPAC) and the Birth and Foster Parent Partnership (BFPP).
Flexible funding through the Alliance Resiliency Project helped support families and filled gaps not met by other resources. The importance of the support for concrete needs cannot be overstated. Often, these funds provided safety and security when all other options had been exhausted and the ability to help stabilize family situations has made a powerful, lasting and important difference in the lives of many families.
Caring Conversations Continue Today
Although the Alliance Resiliency Project grant period ended June 30, 2021, the Alliance is continuing to hold Caring Conversations every Monday at Noon CT for parents to share and network with one another. Register HERE to participate in the next Caring Conversation.
Alliance Resiliency Project Report
The Alliance compiled a full report on the project when the grant period ended June 30, 2021. The report – Alliance Resiliency Project: A Model for Flexible Funding to Support Families – contains lessons learned and has become a resource as states and organizations work to build a supportive approach for families they are partnering with.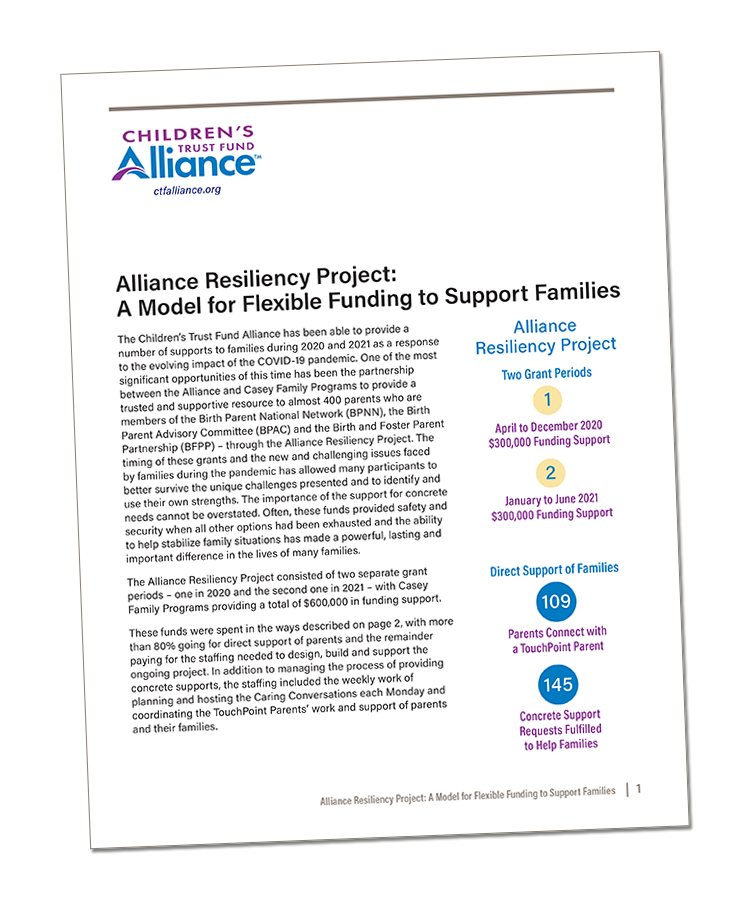 Parents Talk About the Alliance Resiliency Project
Children's Trust Fund Alliance staff asked three parents to share what the Alliance Resiliency Project meant to them. Clips from the interviews have been featured in presentations at multiple conferences and events.
Terecca DeFehr and Tiffany Csonka are regular participants in the Caring Conversations. Both were connected with a TouchPoint Parent for concrete and emotional support. Tecoria Jones is a TouchPoint Parent and shares how she grew in that role and also discusses the full project and the Caring Conversations in which she was a regular participant.
Terecaa DeFehr  – Participant in Caring Conversations (14:51 minutes)
Tiffany Csonka  – Participant in Caring Conversations (7:22 minutes)
Tecoria Jones – TouchPoint Parent (17:20 minutes)