Birth Parent National Network (BPNN)
Promoting birth parents as leaders and strategic partners in prevention and child welfare systems reform
8th Annual Virtual Convening: Racism and Anti-Racism in the Social Ecology
Thursday, June 23, 2022
10am PT | 11am MT | 12pm CT | 1pm ET
Join the Birth Parent National Network (BPNN) for its 8th Annual Virtual Convening Thursday, June 23, for a presentation and conversation about how racism shows up across the social ecology of children and their families' lives. During the 2 1/2-hour convening, we will look at how we, as individuals, can implement anti-racist strategies, policies and practices in our relationships, organizations, communities and society.
Dr. Charlyn Harper Browne and Cailin O'Connor from the Center for the Study of Social Policy (CSSP) will explore the many ways that racism permeates our lives, and how we can take active, anti-racist steps as individuals and within systems.
There will be time for questions and for participants to share their reflections about how to apply these ideas in their lives and work. Click on the button below to register now for this informative convening.
Register for June 23 Convening
To learn more, download the convening flyer. Also, please help us spread the word about the convening by downloading and sharing the social media image on your networks.
Updated Parent Partnership Organizations Directory
The BPNN's directory of parent partnership organizations provides an overview of organizations nationwide that partner with parents to support, strengthen and sustain healthy families and communities. It was developed 5 years ago in partnership with the parent members of the BPNN. The 2022 update includes newly formed state parent advisory councils and other parenting initiatives, networks and national organizations that provide technical assistance, training and systems improvements. This is an evolving list and will be updated as new information is received. To submit new information, contact info@ctfalliance.org.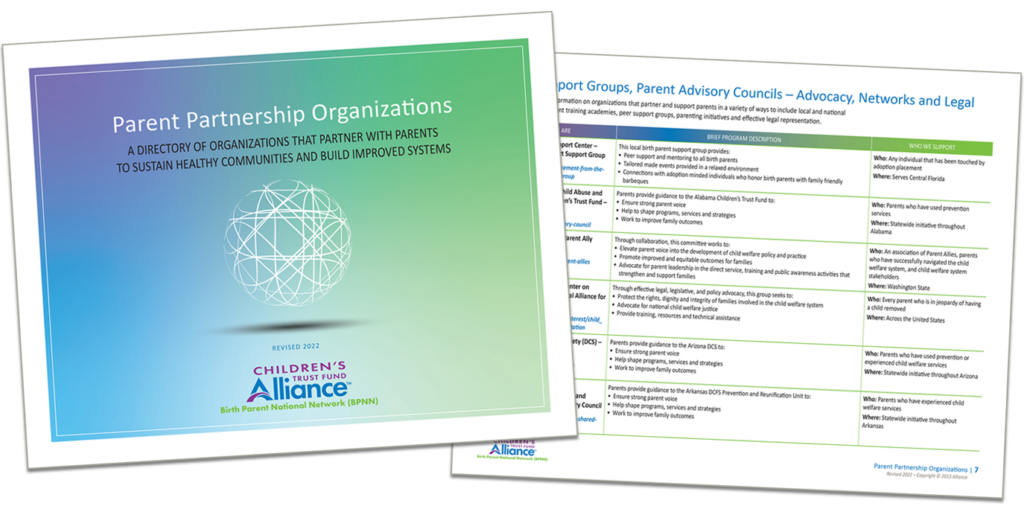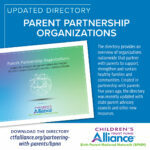 Help spread the word about the BPNN's updated directory by downloading a social media image and sharing with your networks.
Save the Dates for BPNN's August and October webinars
The Birth Parent National Network (BPNN) heard from the Washington State Parent Ally Committee (WSPAC) at its May 17 webinar. We heard from a panel of alumni and current WSPAC members who talked about the beginnings of WSPAC and the powerful impact it has today in bringing the parent voice into the development of child welfare policy and practice. The webinar video and PowerPoint slides will be posted soon in the Events section.
The BPNN has two more webinars schedule for 2022. BPNN members – parents and organizational leaders – will lead the 90-minute interactive, educational sessions that start at 10am PT, 11am MT, 12pm CT and 1pm ET. The focus of the BPNN webinars is on the latest policy and developments affecting children and families. Please save the following dates:
Thursday, August 25, 2022
Thursday, October 27, 2022

We are a national network of hundreds of birth parents and organizations working together to strengthen families, communities and systems by engaging the voices of parents.
Promote Parent Voices
The Alliance's BPNN recruits parents, individual stakeholders and organizations that work with parents to join together to promote and support the voices of parents to inform policies and practices that effect children and families. The dynamic BPNN membership consists of:
Parents who:
Are committed to a strength-based, preventative approach for systems that interact with families
Have high interest in engaging in policy work and drawing on their life experiences to inform and educate policymakers and other stakeholders
Have experienced challenges and have been at risk of child welfare involvement
Have been previously involved with the child welfare system
Organizations that:
Are committed to identifying and supporting parents as strategic partners in policy work and system reform
Have an interest in sharing materials and resources with their peers and colleagues nationally
BPNN Members meet four times a year by webinar for policy updates and information sharing. Also, the BPNN holds an annual virtual convening which is usually in December but scheduled for June 23 this year.
Join Us Now
Select the application form best suited to your role: Parent, Individual Stakeholder or Organization. You will be contacted once your application has been received. All forms will appear in a pop-up window.
Recruitment Flyer to Share
CARING CONVERSATIONS
Mondays
10 AM PT • 11 AM MT • 12 PM CT • 1 PM ET
Children's Trust Fund Alliance is building a better normal by bringing together the powerful strengths within the Birth Parent National Network (BPNN). The Alliance is holding Caring Conversations every Monday to support us all and to facilitate our collective wisdom. Social connections are a powerful protective factor in our lives. However, because of the pandemic and other world events such as the Ukraine invasion, it is easy to feel isolated and stressed. Through these virtual meetings, we can come together and share our experiences, successes and concerns.
Register HERE to participate in the next Caring Conversation.
2022 BPNN Quarterly Webinars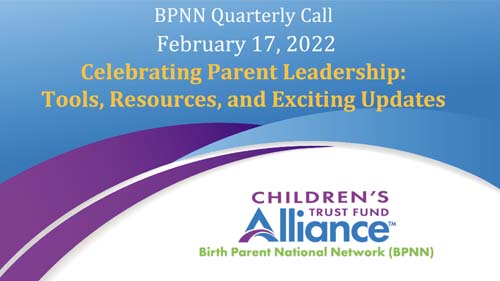 February 17, 2022 – Celebrating Parent Leadership: Tools, Resources and Exciting Updates
Introduction and Public Policy (34 minutes)
Exciting News: Book Club Guide, Georgia PAC and Dr. Bruce Perry (32 minutes)
National Parent Leadership Month Materials and Closing Comments (19 minutes)
Webinar Materials:
2021 Webinars
February 25, 2021 – Celebrating National Leadership Month and Black History Month
May 27, 2021 – The Power and Impact of Parent Voice
August 26, 2021 – Impacts on Parents, Children and Communities
October 28, 2021 – A Focus on Fathers
2020 Webinars
May 26, 2020 – 
Parent Advisory Councils and Authentic Partnerships
July 14, 2020 – Policy Discussions and Developments Affecting Children and Families
July 29, 2020 – Elevating the Impact of COVID on Parents Involved in Child Welfare
July 30, 2020 – Parent Advisory Councils and Authentic Partnerships Part 2
October 22, 2020 – Race Talk: Facilitating Effective Conversations for Addressing Racial Justice and System Inequities
2019 Webinars
February 2019 – Celebrate National Parent Leadership Month with the BPNN and ANPPC
May 2019 – Parent Partnerships
August 2019 – Practice Changes in Sonoma County
October 2019 – Update on Family First Prevention Services Act (FFPSA)
2021 7th Annual Virtual Convening
STRUCTURAL RACISM AND CURRENT DAY IMPLICATIONS: How We Got Here and a Better Path Forward
The Birth Parent National Network (BPNN) 7th Annual Virtual Convening examined core concepts related to race/ethnic equity and inclusion issues. The December 2 convening was led by the W. Haywood Burns Institute (BI) which is a black-led national, nonprofit that works to transform the notion of what justice means.
We heard from Michael Finley and Samantha Mellerson about the historical perspective of structural racism on the development of human services work. They also discussed what we need to consider to eliminate racial and ethnic disparities within systems. They also shared strategies and tactics to establish a community-centered approach of justice administration that is anchored in structural well-being.
The following materials are available to download:
Previous BPNN Virtual Convenings
The Alliance's Birth Parent National Network (BPNN) hosts a free virtual convening each year. BPNN members and keynote speakers share new ideas and strategies to create opportunities for parent voices to improve policies and practices impacting children and families nationwide.
2020 Virtual Convening
Creating Thriving Families and Communities in a 21st Century Child Well-Being System
December 3, 2020
Part 1 – Strengthening Families™ Protective Factors Framework: Bringing the Protective Factors to Life in Your Work
Part 2 – Communities of Hope
2019 Virtual Convening
Prevention Across the Continuum

December 3, 2019
2018 Virtual Convening
Putting Families First

November 27, 2018 – Session 1
December 4, 2018 – Session 2