Birth Parent National Network (BPNN)
The Birth Parent National Network (BPNN) promotes birth parents as leaders and strategic partners in prevention and child welfare systems reform.
Save the Dates for BPNN's 2022 Webinars and Virtual Convening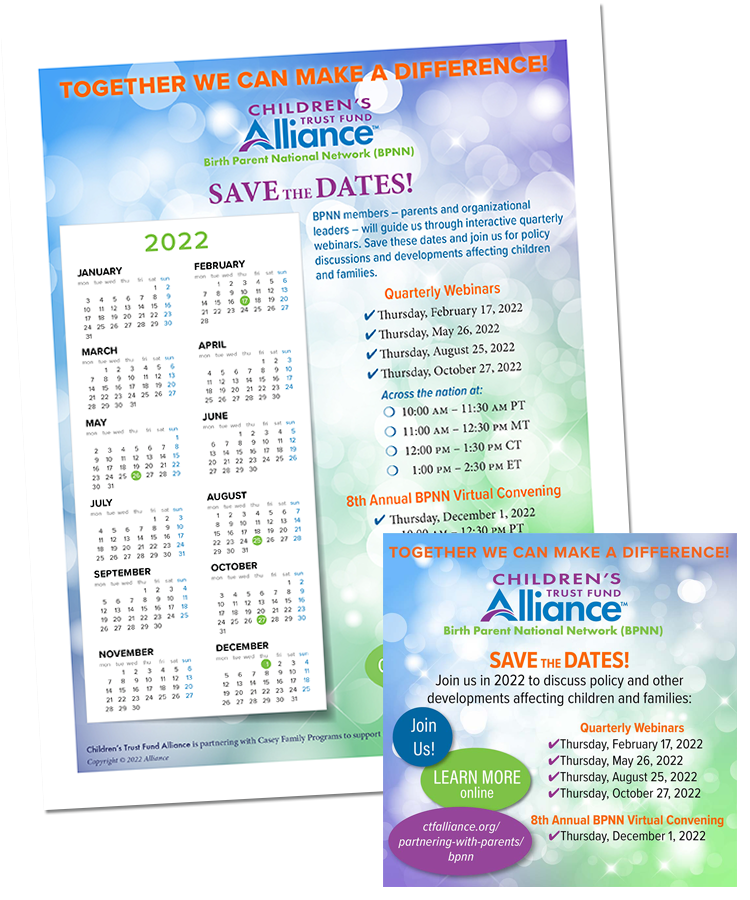 Working together through the Birth Parent National Network (BPNN) we can make a difference for children and families. The BPNN will hold quarterly webinars in 2022. BPNN members – parents and organizational leaders – will guide us through these 90-minute interactive educational sessions. Save these dates and join us for policy discussions and developments affecting children and families:
Thursday, February 17, 2022

 

Thursday, May 26, 2022
Thursday, August 25, 2022
Thursday, October 27, 2022
The BPNN's 8th Annual Virtual Convening has been set for Thursday, December 1, 2022.
Both the webinars and the virtual convening begin at 10 am PT, 11am MT, 12 pm CT and 1 pm ET.
Visit the EVENTS section to see the 2021 webinars and the virtual convening on race equity.
BPNN Webinar
Thursday, February 17, 2022
10:00–11:30 AM PT | 11:00 AM–12:30 PM MT | 12:00–1:30 PM CT | 1:00–2:30 PM ET
Celebrating Parent Leadership: Tools, Resources and Exciting Updates
The Birth Parent National Network (BPNN) will kick off 2022 by celebrating National Parent Leadership Month at its Thursday, February 17 webinar. We will reveal a special parent leadership certficate and activity that the Children's Trust Fund Alliance is coordinating. The BPNN will also share some new tools and resources that you can use in your local community or across your state as we honor parents as heroes and community leaders.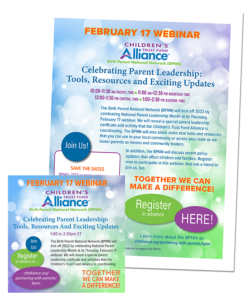 In addition, the BPNN will discuss recent policy updates that affect children and families. Register now to participate in this webinar. And ask a friend to join us, too.
To join us, register in advance by clicking on the button below:
Help us get the word out about the Feb. 17 webinar by downloading the BPNN flyer and social media image and disseminating them widely.
What Parents Say About…Equity and Support for Underserved Communities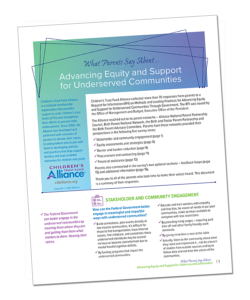 We thank all of the parents who took time to make their voices heard about advancing equity and support for underserved communities. The Alliance collected more than 70 responses from parents to a survey from the US Office of Management and Budget, Executive Office of the President. Parents from the Alliance National Parent Partnership Council (ANPPC), the Birth Parent National Network (BPNN), the Birth and Foster Parent Partnership (BFPP) and the Birth Parent Advisory Committee (BPAC) provided their perspectives in the following areas:
Stakeholder and community engagement
Equity assessments and strategies
Barrier and burden reduction
Procurement and contracting
Financial assistance
Feedback loops
Additional information
Check out the meaningful and impactful responses in What Parents Say About…Advancing Equity and Support for Underserved Communities.
Download What Parents Say About…Advancing Equity and Support
This report joins our popular What Parents Say About… series which can be found in Resources. Or click on the button below where you can choose to download any or all of the seven publications:

We are a national network of hundreds of birth parents and organizations working together to strengthen families, communities and systems by engaging the voices of parents.
Promote Parent Voices
The Alliance's BPNN recruits parents, individual stakeholders and organizations that work with parents to join together to promote and support the voices of parents to inform policies and practices that effect children and families. The dynamic BPNN membership consists of:
Parents who:
Are committed to a strength-based, preventative approach for systems that interact with families
Have high interest in engaging in policy work and drawing on their life experiences to inform and educate policymakers and other stakeholders
Have experienced challenges and have been at risk of child welfare involvement
Have been previously involved with the child welfare system
Organizations that are:
Committed to identifying and supporting parents as strategic partners in policy work and system reform
Interested in sharing materials and resources with their peers and colleagues nationally
BPNN Members meet four times a year by webinar for policy updates and information sharing. Also, the BPNN holds an annual virtual convening in December.
Join Us Now
Select the application form best suited to your role: Parent, Individual Stakeholder or Organization. You will be contacted once your application has been received. All forms will appear in a pop-up window.
Recruitment Materials to Share
Responding to Family Needs During COVID-19
Many families across our nation are struggling during this COVID-19 pandemic. At the Children's Trust Fund Alliance, we have spoken to parents who have lost their jobs, and are anxious about providing for their families. This pandemic has created a common denominator of stress and challenge for most families. T
he Alliance is working tirelessly to provide
information, support and opportunities for action to strengthen and promote the well-being of children, families and communities.
Help Us Make the Case for Continued Support
At a time when there is such critical need at every turn, we need to make the case for additional support for children and families dealing with the challenges of COVID-19. Collecting and sharing the stories of families during the pandemic is one way to put a face on these real and everyday challenges to help systems leaders and policymakers prioritize the needs of families.
We have created a short questionnaire to give families a way to share your stories with the media. The questionnaire is simple and submission will be followed up by a contact from the Alliance. Stories are powerful – so if you have a story to share or know of a family that you work with that might be willing to share their story, please complete the questionnaire HERE or share this link with others: https://tinyurl.com/y6cel9g2
CARING CONVERSATIONS
Mondays
10 AM PT • 11 AM MT • 12 PM CT • 1 PM ET
Children's Trust Fund Alliance is building a better normal by bringing together the powerful strengths within the Birth Parent National Network (BPNN). The Alliance is holding Caring Conversations every Monday to support us all and to facilitate our collective wisdom. Social connections are a powerful protective factor in our lives. However, because of the necessary social distancing to avoid the Coronavirus, it is easy to feel isolated. Through these virtual meetings, we can come together and share our experiences, successes and concerns.
Register HERE to participate in the next Caring Conversation.
2020 Webinars
May 26, 2020 – 
Parent Advisory Councils and Authentic Partnerships
July 14, 2020 – Policy Discussions and Developments Affecting Children and Families
July 29, 2020 – Elevating the Impact of COVID on Parents Involved in Child Welfare
July 30, 2020 – Parent Advisory Councils and Authentic Partnerships Part 2
October 22, 2020 – Race Talk: Facilitating Effective Conversations for Addressing Racial Justice and System Inequities
2019 Webinars
February 2019 – Celebrate National Parent Leadership Month with the BPNN and ANPPC
May 2019 – Parent Partnerships
August 2019 – Practice Changes in Sonoma County
October 2019 – Update on Family First Prevention Services Act (FFPSA)
2018 Webinars
August 2018
June 2018
April 2018
February 2018
2021 7th Annual Virtual Convening
STRUCTURAL RACISM AND CURRENT DAY IMPLICATIONS: How We Got Here and a Better Path Forward
The Birth Parent National Network (BPNN) 7th Annual Virtual Convening examined core concepts related to race/ethnic equity and inclusion issues. The December 2 convening was led by the W. Haywood Burns Institute (BI) which is a black-led national, nonprofit that works to transform the notion of what justice means.
We heard from Michael Finley and Samantha Mellerson about the historical perspective of structural racism on the development of human services work. They also discussed what we need to consider to eliminate racial and ethnic disparities within systems. They also shared strategies and tactics to establish a community-centered approach of justice administration that is anchored in structural well-being.
The following materials are available to download:
Previous BPNN Virtual Convenings
The Alliance's Birth Parent National Network (BPNN) hosts a free virtual convening each year. BPNN members and keynote speakers share new ideas and strategies to create opportunities for parent voices to improve policies and practices impacting children and families nationwide.
2020 Virtual Convening
Creating Thriving Families and Communities in a 21st Century Child Well-Being System
December 3, 2020
Part 1 – Strengthening Families™ Protective Factors Framework: Bringing the Protective Factors to Life in Your Work
Part 2 – Communities of Hope
2019 Virtual Convening
Prevention Across the Continuum

December 3, 2019
2018 Virtual Convening
Putting Families First

November 27, 2018 – Session 1
December 4, 2018 – Session 2