Birth Parent National Network (BPNN)
The Birth Parent National Network (BPNN) promotes birth parents as leaders and strategic partners in prevention and child welfare systems reform.
Creating Thriving Families and Communities in a 21st Century Child Well-Being System
BPNN 6th Annual Virtual Convening
Thursday, December 3, 2020
Participants had nothing but praise for the Birth Parent National Network (BPNN) 6th Annual Virtual Convening. If you were a participant and want to review the materials or if you missed the convening, the recordings, slides and handouts are are available now for viewing in the Virtual Convening Materials list.
The first segment focused on the Strengthening Families™ Protective Factors Framework and the Alliance's highly regarded training, Bringing the Protective Factors to Life in Your Work. Maureen Hollocker, Alliance Lead Trainer, and LaCrisha Rose, Alliance Master Trainer, asked participants "What could move families from a constant state of SURVIVING to THRIVING?" Then they promoted a strengths-based approach to serving families and children. Tecoria Jones, BPNN member from South Carolina who helped facilitate the convening, pointed out, "We all need something sometimes. No silos! Every family, every person deserves to have basic needs met!"
In the second portion of the convening, participants heard about Communities of Hope (COH), a unique concept developed by Casey Family Programs. Margie Hunt, Senior Director of National Partnerships at Casey Family Programs talked about how children and families can best thrive when they have the opportunity to live and grow in caring and supportive communities and this work helps make that possible. The COH vision focuses on transforming the child welfare system into a child and family well-being system by helping communities support families in building their protective factors.Then Natalie Towns, Prevention Section Director of Georgia Division of Family and Children Services (DFCS), shared some powerful examples about how Georgia DFCS is partnering with families and communities to implement the Georgia State of Hope initiative throughout the state.
Virtual Convening Materials
December 3, 2020
Part 1 – Strengthening Families™ Protective Factors Framework: Bringing the Protective Factors to Life in Your Work
Part 2 – Communities of Hope
Responding to Family Needs During COVID-19
Many families across our nation are struggling during this COVID-19 pandemic. At the Children's Trust Fund Alliance, we have spoken to parents who have lost their jobs, and are anxious about providing for their families. This pandemic has created a common denominator of stress and challenge for most families. T
he Alliance is working tirelessly to provide
information, support and opportunities for action to strengthen and promote the well-being of children, families and communities.
Help Us Make the Case for Continued Support
At a time when there is such critical need at every turn, we need to make the case for additional support for children and families dealing with the challenges of COVID-19. Collecting and sharing the stories of families during the pandemic is one way to put a face on these real and everyday challenges to help systems leaders and policymakers prioritize the needs of families.
We have created a short questionnaire to give families a way to share your stories with the media. The questionnaire is simple and submission will be followed up by a contact from the Alliance. Stories are powerful – so if you have a story to share or know of a family that you work with that might be willing to share their story, please complete the questionnaire HERE or share this link with others: https://tinyurl.com/y6cel9g2
CARING CONVERSATIONS
Mondays
10 AM PT • 11 AM MT • 12 PM CT • 1 PM ET
Children's Trust Fund Alliance is building a better normal by bringing together the powerful strengths within the Birth Parent National Network (BPNN). The Alliance is holding Caring Conversations every Monday to support us all and to facilitate our collective wisdom. Social connections are a powerful protective factor in our lives. However, because of the necessary social distancing to avoid the Coronavirus, it is easy to feel isolated. Through these virtual meetings, we can come together and share our experiences, successes and concerns.
Register HERE to participate in the next Caring Conversation.

Become part of the
BIRTH PARENT NATIONAL NETWORK (BPNN)
We are a national network of hundreds of birth parents and organizations working together to strengthen families, communities and systems by engaging the voices of parents.
Promote Parent Voices
The Alliance's BPNN actively recruits parents, individual stakeholders and organizations that work with parents to join together to promote and support the voices of parents to inform policies and practices that effect children and families. The dynamic BPNN membership consists of:
Parents who:
Are committed to a strength-based, preventative approach for systems that interact with families
Have high interest in engaging in policy work and drawing on their life experiences to inform and educate policymakers and other stakeholders
Have experienced challenges and have been at risk of child welfare involvement
Have been previously involved with the child welfare system
Organizations that are:
Committed to identifying and supporting parents as strategic partners in policy work and system reform
Interested in sharing materials and resources with their peers and colleagues nationally
BPNN Members meet six times per year by webinar for education and information sharing. These webinars and other resources focus on tips and information to prepare birth parents to effectively participate in a range of policy activities, such as giving personal testimony and educational meetings with policymakers. In addition, the BPNN holds an annual virtual convening in November.
Join Now
Select the application form best suited to your role: Parent, Individual Stakeholder or Organization. You will be contacted once the application has been received. All forms will appear in a pop-up window. Make sure your browser is not blocking pop-ups.
Recruitment Materials to Share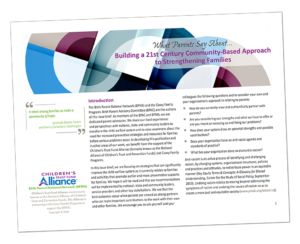 The Children's Trust Fund Alliance joined with a group of parents from the BPNN to produce these issue briefs. They include the perspectives of parents with life experiences in using services to strengthen their families and focus on timely and important topics.
NEW ISSUE BRIEF

What Parents Say About…Supporting Families to Provide a Strong Start for Their Young Children is written by Tecoria Jones and Edwin Daye, two members of the BPNN. They provide a parent perspective on access to prevention strategies, community support for parents, special considerations for COVID-19 and how policymakers and leaders can help. Tecoria and Edwin point out that all families need and benefit from support and that we all can help ensure a better tomorrow for our children.
Parent Partner Compendium
The Alliance created the document,
Parent Partnership Compendium of Organizations
, in partnership with parents. The compendium provides an overview of organizations nationwide that partner with parents to support, strengthen and sustain healthy families and communities. It includes a range of resources such as parent partner programs, support groups, parenting initiatives, networks and national organizations that provide technical assistance, training and systems improvements. This is an evolving list and will be updated as new information is received. To submit new information, contact
info@ctfalliance.org
.
Family First Prevention Services Act
The Family First Prevention Services Act was passed by Congress in February 2018. This groundbreaking legislation changes the way child welfare systems can support families and provides new resources for prevention of foster care. The Alliance and our parent partners are working hard to educate policymakers charged with implementing this new legislation.
See additional information about FFPSA, including both a short and detailed summary of the legislation, an implementation timeline and the law language. Check out the resources below:
Opioid Crisis
The opioid crisis is a serious problem for many families and our nation. The Alliance and our partners are speaking out about strong supports for families facing this challenge. Casey Family Programs' CEO William C. Bell testified at a hearing of the U.S. Senate Committee on Health, Education, Labor and Pensions on the impact of the opioid crisis on children and families.