Our policy work is proactive and focused on proposing and supporting policies that promote health and well-being and prevent child maltreatment.
Responding to Family Needs During COVID-19
Many families across our nation are struggling during this COVID-19 pandemic. The Children's Trust Fund Alliance has spoken to parents who have lost their jobs, and are anxious about providing for their families. They are uncertain how to protect their children and scared of what happens if they become ill themselves.
We visited with the members of the Alliance National Parent Partnership Council (ANPPC), and used the ANPPC's new tool – Conversations for a Better Normal – to visit with parents and community leaders and gathered data from those virtual meetings. We developed the Alliance Resiliency Project in partnership with Casey Family Programs to provide supportive resources for parents who are members of the Birth Parent National Network (BPNN), the Birth Parent Advisory Committee (BPAC) and the Birth and Foster Parent Partnership (BFPP). We hold weekly Caring Conversations for parents to share with each other how they are getting through this time of COVID-19, what supports they need and what creative ways they have found to make the most of this trying situation.
Also, we have held webinars with our members – state children's trust funds – and learned what they and their community-based grantees are doing to help families through this hard time. And we've been in conversations with some of our national prevention partners to learn more about what they are doing.
Next, we created a document containing the information we have been hearing from parents about their needs during this time of COVID-19 and also some of the creative and flexible responses that our members and others have been implementing. We think it is a useful tool for acknowledging what many parents are dealing with right now, and it's available for downloading HERE. We originally developed the document at the request of policymakers who wanted to know what we were hearing from parents about their challenges. We included some of the solutions we are seeing as well.
Additional CAPTA Funding
We also are working hard to get additional funding allocated through CAPTA for CBCAP programs in Title II so that system can better respond to the needs of families. Now is the time for Congress and the Administration to expand support for families and for the community-based services that will help them weather this crisis and stay strong for the future. Help us by downloading two social media images and using them in your outreach to Congress in the next couple of weeks.
Free the Families and Promote Family Unity
The Alliance has joined 93 child welfare, health and safety experts and national organizations to request that Immigration and Customs Enforcement (ICE) safely and immediately release all children together with their parents from family detention. The June 26 ruling by U.S. District Court Judge Dolly M. Gee to release children being held in family detention centers by July 17 (a deadline that was extended to July 27) does not require ICE to release children together with their parents. To read the letter that points out the extraordinary harm family separation does to children, click HERE.
The Alliance endorses issues based on their potential to advance the mission of the Alliance and the work of our members. Endorsement by the Alliance does not imply endorsement by individual Alliance members. In making this determination the Alliance considers the following criteria:
Based on Research
The policy aligns with policy strategies identified by the Centers for Disease Control & Prevention (CDC) in their Technical Assistance Package for Preventing Child Abuse and Neglect:
Strengthen economic supports to families
Change social norms to support parents and positive parenting
Provide quality care and education early in life
Enhance parenting skills to promote healthy child development
Intervene to lessen harms and prevent future risk
Strengthen Protective Factors
The policy promotes the five Strengthening Families Protective Factors to achieve positive outcomes for children and families including reductions in child maltreatment:
Parental resilience
Social connections
Knowledge of parenting and child development
Concrete support in times of need
Social and emotional competence of children
Advance Equity
The policy advances issues of equity, diversity and inclusiveness.
Align with Theory of Change
The policy aligns with the Alliance's child neglect prevention Theory of Change.
Child Abuse Prevention and Treatment Act (CAPTA)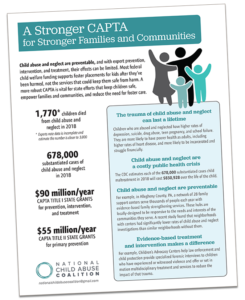 Infographic to Share
The Alliance worked with a team from the National Child Abuse Coalition to put together this infographic, which is being shared with policymakers in Congress. Click HERE to download and share widely, particularly with your Congressional representatives.
Shares facts that support the importance of the Child Abuse Prevention and Treatment Act
Underscores the critical need to reauthorize CAPTA in a way that will increase the funds for use by states to prevent child abuse and neglect.
The Child Abuse Prevention and Treatment Act (CAPTA), was first enacted in 1974. It is the only federal legislation exclusively dedicated to the prevention, assessment, identification, and treatment of child abuse and neglect.
Since its enactment, Congress has amended the law many times to strengthen state child protective services and promote child abuse prevention. Recently, the legislation has been amended to require states to implement "plans of safe care" for babies born exposed to opioids and other substances.
Title II of CAPTA includes multiple smaller programs including the Community Based Child Abuse Prevention (CBCAP) grants. Many state Children's Trust Funds serve as the CBCAP lead agency for their state and those who are not CBCAP leads are often partners with the CBCAP lead agency for their state.
CAPTA was last reauthorized in 2010 and is pending reauthorization when Congress takes action on the legislation. Policy advocates expect Congress to consider reauthorization of CAPTA during 2019, although they could act earlier if they decide to do so.
CAPTA legislation is under the jurisdiction of the Senate HELP Committee and the House Committee on Education and the Workforce.
The Alliance is working with our members, our partners with the National Child Abuse Coalition, and others to advocate for reauthorization of CAPTA during the upcoming year with expanded support for prevention included in the legislation.
November 14, 2019 – Congressional Briefing
MOVING UPSTREAM: What works to strengthen families and prevent child abuse and neglect
The "Moving Upstream" Congressional Briefing promoted the public health approach to help families thrive rather than our current system which focuses on how to respond after child abuse or neglect has occurred. The briefing's goal was to help lawmakers and their staff learn more about successful efforts that help strengthen families and reduce the likelihood of child abuse and neglect.
Topics discussed:
Passage of the Family First Prevention Services Act (FFPSA) in 2018 was a promising step towards transforming our child welfare system. Reauthorization of the Child Abuse Prevention and Treatment Act (CAPTA) will continue this progress, but action is needed now to reauthorize and fund this vital legislation to meet the current needs of our families and communities.
The House of Representatives passed their version of CAPTA Reauthorization (Stronger CAPTA) on May 20, 2019 with broad bipartisan support. The House bill includes provisions that would strengthen Title I and Title II of CAPTA including bolstering the Community-Based Child Abuse Prevention (CBCAP) grants program to better meet the needs of children, families and communities and enhancing efforts to prevent child abuse and neglect.
Panelists:
Sallye R. Longshore, MS, Ed.S, Director Alabama Children's Trust Fund, Alabama Department of Child Abuse and Neglect Prevention (State CBCAP Lead)
Natalie Towns, MSW, Section Director, Georgia Children's Trust Fund / Prevention and Community Support, Georgia Division of Family & Children Services (State CBCAP Lead)
LaCrisha Rose, Parent Leader, Co-Chair Alliance National Parent Partnership Council, Facilitator of West Virginia Circle of Parents Network
Melissa Merrick, PhD., President and CEO, Prevent Child Abuse America
Teresa Rafael, MSW, Executive Director, National Alliance of Children's Trust & Prevention Funds (moderator)
March 26, 2019 – Congressional Hearing
Strengthening Prevention and Treatment of Child Abuse and Neglect
Committee on Education and Labor
Subcommittee on Civil Rights and Human Services Protections Hearing
From the Opening Statement of Chair Suzanne Bonamici (OR-1):
"We cannot continue to address this public health crisis by just reacting after child maltreatment cases arise. As this Committee considers reauthorizing the Child Abuse Prevention and Treatment Act—last updated nearly a decade ago—we must shift our focus to preventing the maltreatment from occurring in the first place. We need a CAPTA reauthorization that strengthens federal investments in community-based prevention services so families across the country can receive help before children suffer."
Transcripts of Testimony:
Dr. Yo Jackson, Ph.D., ABPP – Associate Director, Child Maltreatment Solutions Network, Penn State University
Professor of Psychology, College of Liberal Arts, Penn State University
Research Professor, University of Kansas
Judy King, MSW – Director of Family Support Programs, Washington State Department of Children, Youth, and Families
LaCrisha Rose – Parent
Brad Thomas – Chief Executive Officer, Triple P America, Inc.
Judy King Testimony and Questioning
LaCrisha Rose Testimony and Questioning
Family First Prevention Services Act (FFPSA)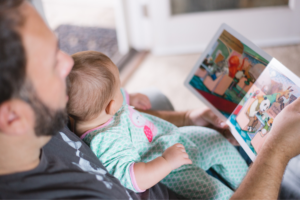 The Family First Prevention Services Act (FFPSA) is a landmark bill, which was signed into law on February 9, 2018 as part of the as part of the Bipartisan Budget Act of 2018 (H.R. 1892).
The legislation introduces historic reforms for child welfare financing to help keep children safely with their families and avoid the traumatic experience of entering foster care. It also includes provisions to help ensure children are placed in the least restrictive, most family-like setting appropriate to their special needs when foster care is needed.
This legislation allows states to use federal child welfare matching funds for certain evidence-based prevention services for children and their parents and encourages the placement of children in foster care in the least restrictive, most family-like settings.
Funding would be available for three types of prevention services and programs:
Mental health services,
Substance abuse prevention and treatment services,
In-home parent skill-based programs, which include parent skills training and parent education.
The legislation makes these services available to children who are at "candidates for foster care", without regard to income. The bill specifies that services are available for a maximum of 12 months, but can be received more than once throughout different points in the child and family's life.
The Alliance advocated for passage of Family First and we are now working with state CTFs to prepare for implementation of the legislation. We are also advocating for states and federal officials to approach implementation with the greatest emphasis on primary prevention allowable.
The Children's Defense Fund has prepared summaries of the Family First Prevention Services Act, which are listed below.
See here for a short summary.
See here for a detailed summary.
See here for an implementation timeline.
See here for the law language.