Partnering with parents is integral to our work.
What Is Parent Partnership?
A partnership is an active choice to sustain a meaningful relationship toward an agreed upon goal. Recognizing our personal and collective capacity to create positive change is the foundation for healthy partnerships.
PARENT VOICE
February is National Parent Leadership Month! Join us in celebrating parents as heroes and recognizing the important leadership roles they have in their communities.
Check out and use some of our many resources and tools on the PARENT VOICE page.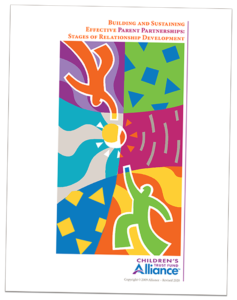 The staff role in this beginning stage is to maintain a safe container for growth and learning together. At a program level, parent leadership activities shift to partnering with parents when parents are acknowledged as the experts in what is needed for their family and that both staff and parents are learning from the relationship. Rather than asking, "What can I provide to create positive outcomes for your family?" the shift in thinking is "What can we do together that creates positive outcomes for you and your family?' To learn more about building and sustaining effective parent partnerships and the stages of relationship development, click the button below.
"Parents have to be at the heart of our work because they are key to the prevention of child abuse. Our work to engage parents and develop parent leadership is at an early stage but I am excited about what I am hearing. Parents are learning what they have in common, that they have a right to the protective factors and that they are the ones who will make a difference in their kid's and the community's kids' lives. I am looking forward to what comes next!"
Roger Sherman,
Executive Director, Idaho Children's Trust Fund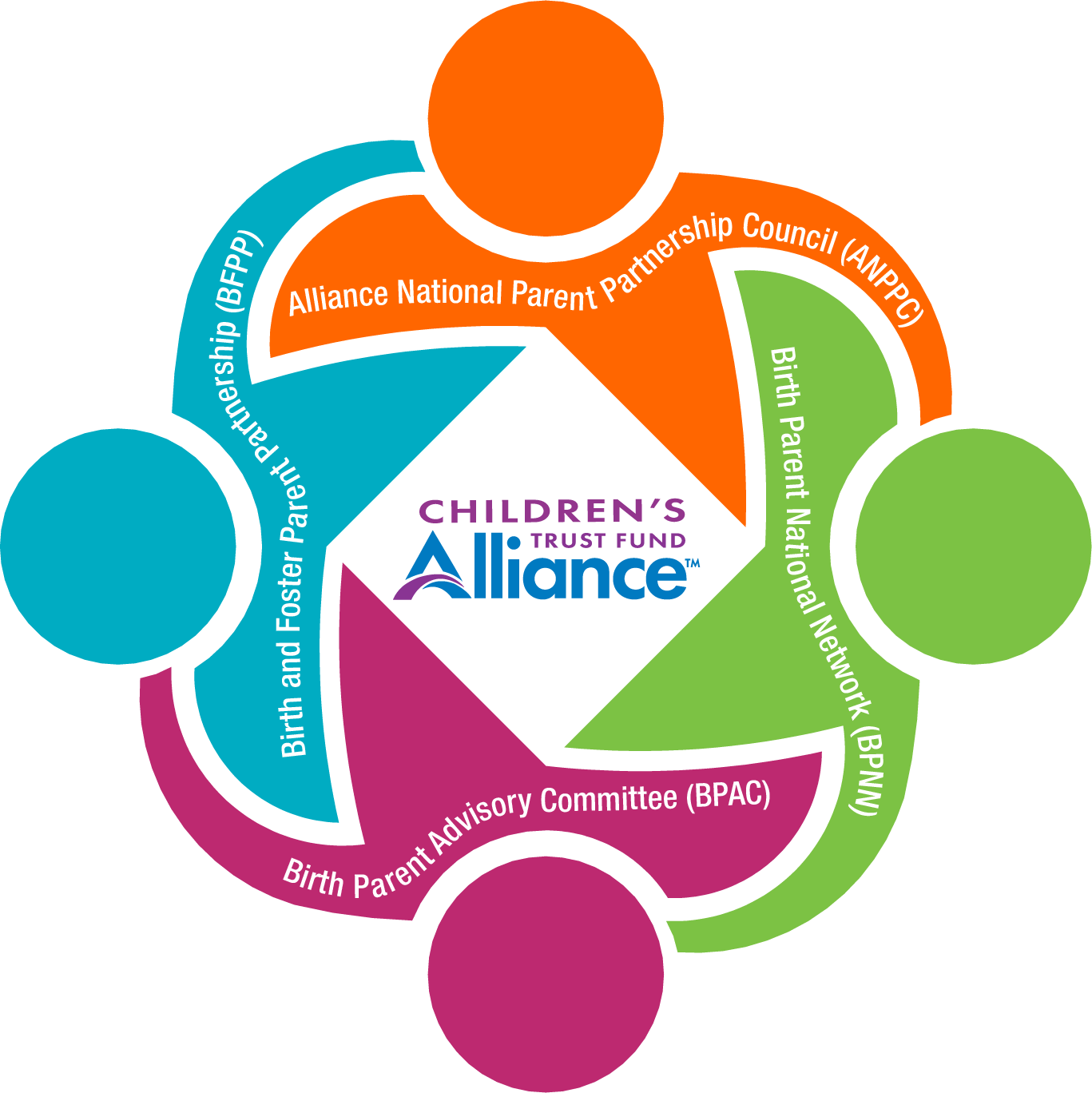 The Children's Trust Fund Alliance expands and advances the meaningful and authentic roles of parent leaders in state children's trust and prevention funds. The Alliance models parent partnerships in meaningful ways in all of our work. This enables the Alliance to support other mission-related organizations to develop and strengthen parent partnerships.
The Power of Parent Partnerships
Work together
Strengthen families
Prevent child abuse and neglect
The Alliance actively works with multiple parent groups and offers training and technical assistance to its membership and other mission-related organizations on partnering with parents:
Alliance National Parent Partnership Council (ANPPC) – The Alliance National Parent Partnership Council is an advisory group to the Alliance and Children's Trust Funds. The Co-Chairs of the ANPPC serve on the Alliance Board. Their work aligns with the Alliance's theory of change, strategic plan and priorities. They work to raise awareness about the Alliance and its mission and to strengthen all parents and communities from a prevention point of view.
Birth Parent National Network (BPNN) – The Children's Trust Fund Alliance Birth Parent National Network (BPNN) works to promote and champion birth parents as leaders and strategic partners in prevention and child welfare systems reform. The BPNN actively recruits and welcomes parents who have been involved in the child welfare system or have ever been at risk of involvement (almost any parent) in the system, and the organizations that work with parents.
Birth and Foster Parent Partnership (BFPP) – The Birth and Foster Parent Partnership is an innovative approach that creates authentic collaborations between birth and foster parents and relative care givers who advocate for prevention and child welfare systems reform.
The Alliance's parent organizations generate and create, both individually and collaboratively, many resources that share their parent voice. Several of their most recent resources are featured on our Parent Voice page. For an overview of the Alliance's parent partnership resources, trainings and publications, download a PDF flyer HERE.
Training and Technical Assistance – The Children's Trust Fund Alliance provides training and technical assistance to assist organizations and agencies in building capacity and successfully implementing strategies to engage parents as strategic partners to meet agency and community goals. This includes assessing readiness and current activities, identifying goals and selecting strategies for accomplishing them.