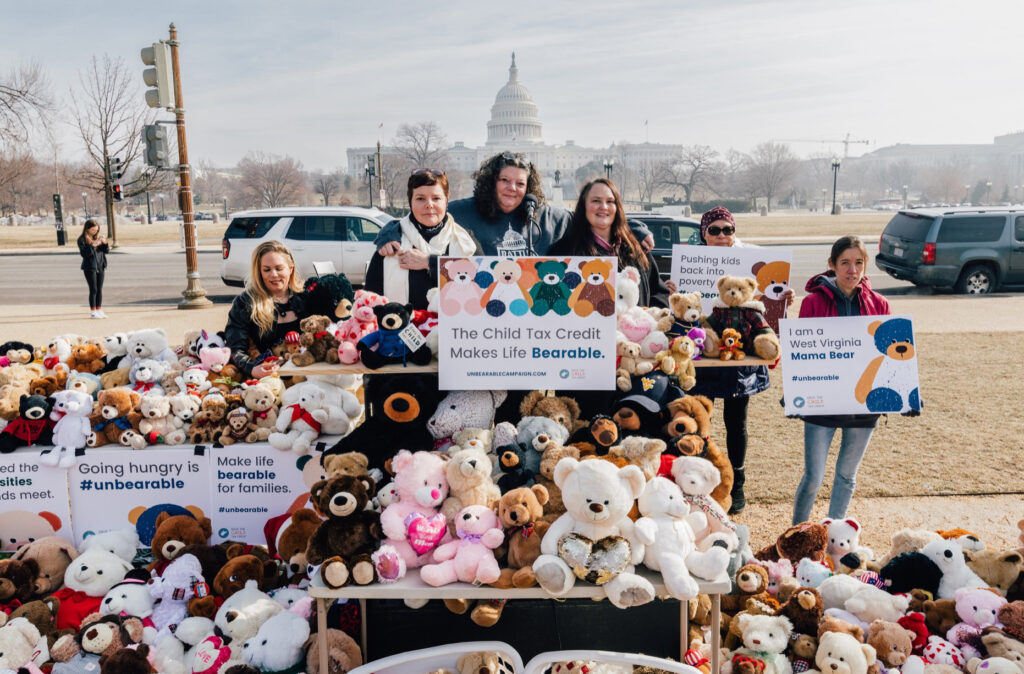 On February 2, 2022 a group of West Virginian Moms shared their stories in front of 500+ teddy bears at the US Capitol. Calling themselves the West Virginia Mama Bears, they reminded the nation that the elimination of the enhanced Child Tax Credit (CTC) had and continues to have real and damaging consequences for 50,000 children in West Virginia.
"Each of these bears represents 100 children," Amy Jo Hutchison, a Wheeling mother and organizer of the event, said during a brief rally with a half-dozen other "Mama Bears" who had made the trip to Washington. "Together these 500 bears represent the 50,000 West Virginia kiddos who have been pushed back into poverty since the halt of the child tax credit payments."
While this grassroots campaign started with a group of moms, several state organizations, including the West Virginia Children's Trust Fund, formed a coalition to help elevate the lives and needs of children.
It started with Amy Jo doing a Facebook live video. She said, "I'm calling on mama bears from all over West Virginia to come together and support the CHILD in the child tax credit. This is unbearable." A Twitter account with Teddy the West Virginia black bear was launched. Eventually, it all culminated with the Feb. 2 event in Washington, DC, a website and a call for national solidarity.
To stand with the Mama Bears and make life more bearable for kids, visit unbearablecampaign.com to see photos and read stories from real families speaking out. Access the Unbearable Campaign Toolkit and show your support for the campaign by easy-to-use assets, including editable Canva graphics. Click HERE to download a PDF about the national movement.