The Georgia Essentials for Childhood Initiative has been encouraging parents, caregivers, professionals, all those who work with or around young people, and all those who may have experienced their own trauma to read "What Happened to You?," co-authored by Oprah Winfrey and Bruce D. Perry, MD, PhD. The Georgia Reads initiative was launched in November 2021 with a webinar hosted by the Georgia Division of Family and Children Services' Prevention and Community Support Section, the Georgia Center for Child Advocacy, Prevent Child Abuse Georgia, and the Gwinnett County Public Library. More than 35 local community organizations and groups signed up to host a book club.
Also in late 2021, the Children's Trust Fund Alliance, who works with the Georgia Children's Trust Fund (Prevention and Community Support) to help coordinate the Georgia Parent Advisory Council (GA-PAC), volunteered to facilitate a book club with the GA-PAC members. Parents who are a part of the GA-PAC were offered an opportunity to attend weekly virtual meetings for about 10 weeks to discuss the chapters of the book. Chloe Corrion, at that time an intern with the Alliance, and Kara Georgi, who works with the GA-PAC through the Alliance, created a beautiful book club discussion guide called "Journey to Resilience: From Trauma to Healing." In addition to discussion questions, the guide has coloring pages, inspirational quotes and integrates the Strengthening Families Five Protective Factors.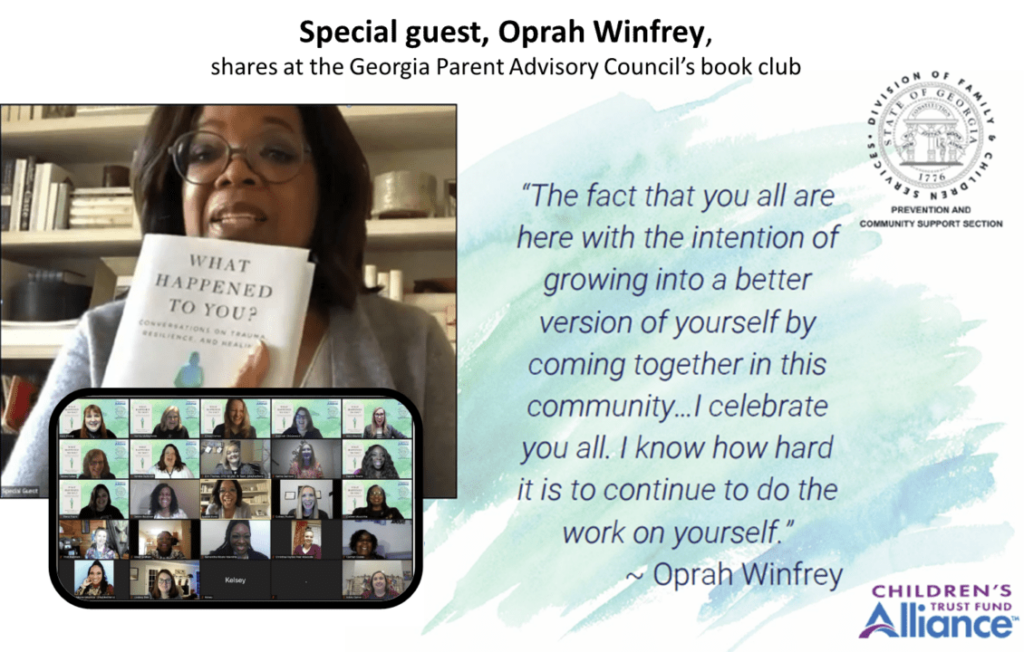 When Chloe and Kara reached out to the Oprah Winfrey Network (OWN) to introduce the book club concept and the discussion guide, Oprah was so impressed with the work that she actually attended (virtually) the final GA-PAC book club meeting! She spent an hour listening to the responses of the parents to the book, answered questions that the parents had about why she wrote the book, and shared her personal experiences with trauma and healing.  It was an incredible evening for the parents and the staff, too!
To celebrate National Parent Leadership Month, the Children's Trust Fund Alliance's Birth Parent National Network revealed the newly released book club guide at its Feb. 17 webinar. GA-PAC members participated in the webinar and shared how reading and being in a "What Happened to You?" book club had changed their lives. Dr. Bruce Duncan Perry was visibly moved by their response to the book and celebrated the value of the book club discussion guide for parents and caregivers.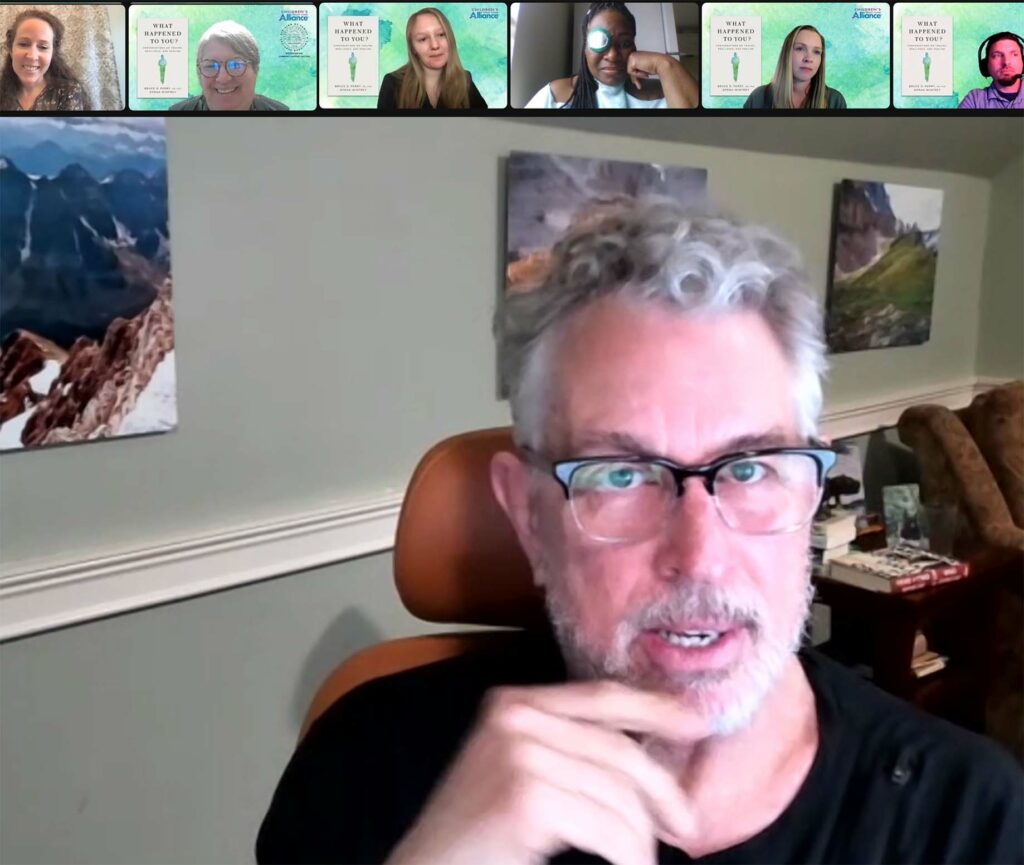 "Oprah and I truly appreciate the thought and hard work that went into the study guide. I really like the images, and it's fun that people can download and color their own version."
Bruce D. Perry, MD, PhD