Every April, State Children's Trust Funds (CTFs) observe National Child Abuse Prevention Month. Across the nation, states develop and promote prevention messages that focus on positive child and family experiences in nurturing communities where everyone can thrive. Following are some examples of the prevention campaigns that CTFs have created to support families during April.
Alaska
alaskachildrenstrust.org/child-abuse-prevention-month
Throughout Prevention Month, Alaska Children's Trust (ACT) will host parent-centered virtual opportunities to learn, connect, and grow together. Check out the opportunities that ACT has planned for parents ranging from peer-to-peer conversations, trainings, and webinars. While visiting the ACT Child Abuse Prevention Month webpage, note the list of "ways to make a difference" during April.
Alaska is celebrating Go Blue Day on Friday, April 1. Check out the ACT poster with creative blue ideas and join in wearing blue during April.
Colorado
illuminatecolorado.org/project/community-education-awareness
Colorado Children's Trust Fund–Office of Early Childhood partners with Illuminate Colorado to promote Child Abuse Prevention Month and positive community norms to strengthen families. They have created a toolkit full of resources for parents and children to download during April. You will need to log in to access and download the kit.
When visiting the Illuminate Colorado website, take time to explore. Check out the Promote Prevention in Your Life page and "50 Ways to Make a Difference" list.
Indiana
iun.edu/cure/programs-initiatives/forum-child-abuse-neglect.htm
Indiana Kids First Trust Fund (KFTF) partnered with Indiana University Northwest on its 32nd Annual Forum on Child Abuse and Neglect to mark National Child Abuse Prevention Month. The virtual forum featured Friday morning webinars around the theme "From ACEs and Trauma to PCEs and HOPE." This year's forum began with two sessions –  April 1 and April 8 – on Adverse Childhood Experiences (ACEs) and ends with Positive Childhood Experiences (PCEs) and messages about resilience, healing and HOPE.
Participants were asked to read What Happened to You? by Dr. Bruce Perry and Oprah Winfrey and join in a book-club-like discussion on April 22. In the closing session on April 29, Dr. Robert Sege, one of the world's leading researchers on the benefits of Positive Childhood Experiences (PCEs) will review his research findings on how PCEs can lead to HOPE (Healthy Outcomes from Positive Experiences).
Download the forum flyer HERE or visit the IUN website to participate in the virtual forum.
Louisiana
Louisiana Children's Trust Fund released a safety coloring book called Louie & Krewe Learn Safety to promote National Child Abuse Prevention Month. The coloring book was created with community in mind and contains games and puzzles featuring animal friends from Louisiana. The book is free to download and organizations can request up to 25 printed copies at no cost.
"Thriving Children and Families: Prevention With Purpose" is Louisiana Children's Trust Funds theme for April. It focuses on recognizing our collective responsibility to support all families and help them to achieve positive outcomes.
South Carolina
scchildren.org/resources/child-abuse-prevention-month

Children's Trust of South Carolina is asking us all to "Be a Campion for Children" during National Child Abuse Prevention Month. The campaign includes a "prevention pledge," downloadable toolkit, sample proclamations, social media images and more. Click HERE to learn how to support parents and caregivers and build the relationships and connections in communities so families can access what they need to help their children.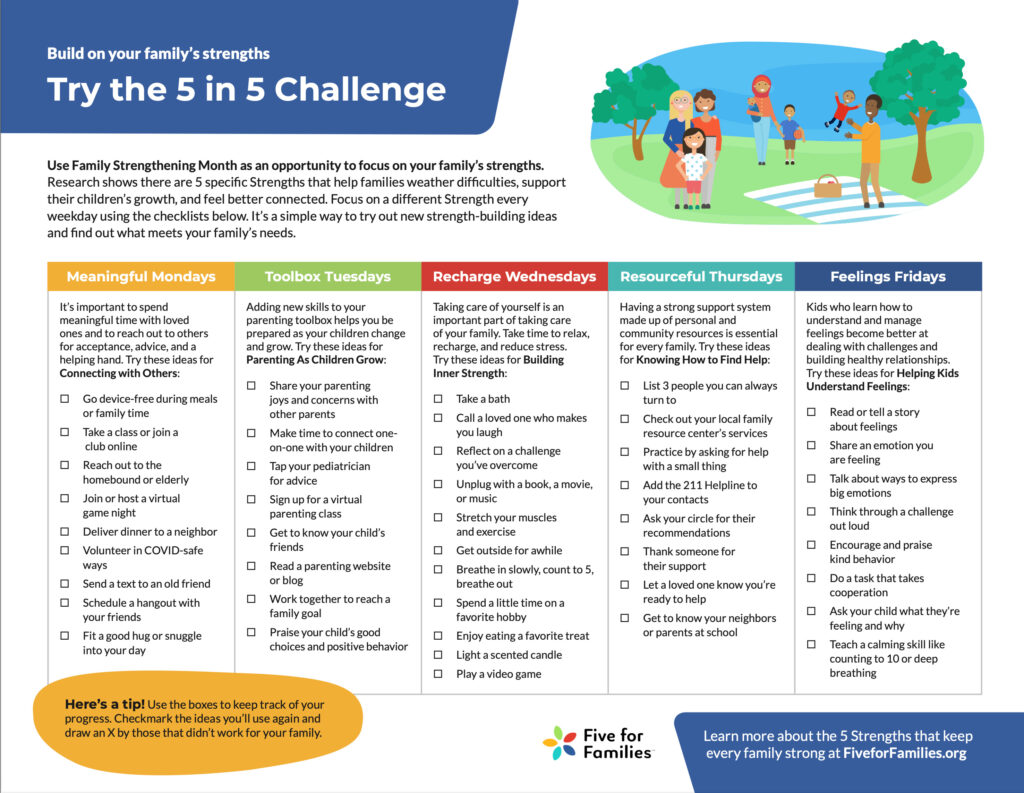 Wisconsin
preventionboard.wi.gov/Pages/OurWork/FFFPreventionMonth
In Wisconsin, the Child Abuse & Neglect Prevention Board proclaimed April as Family Strengthening Month to help strengthen all Wisconsin families by using its Five for Families. They developed a toolkit filled with Five for Families promotional materials (and tips for using them) that can be shared each day during the month of April and throughout the year. The toolkit connects families to Wisconsin's FiveForFamilies and provides tools that families can use to take small but meaningful steps to implement the Five Strengths or the Five Protective Factors into their daily life. There are new social media images, website buttons and a "Try the 5 in 5 Challenge" flyer to download.